These bars have a soft cookie butter truffle layer that is sandwiched between a gooey brownie and a soft layer of chocolate.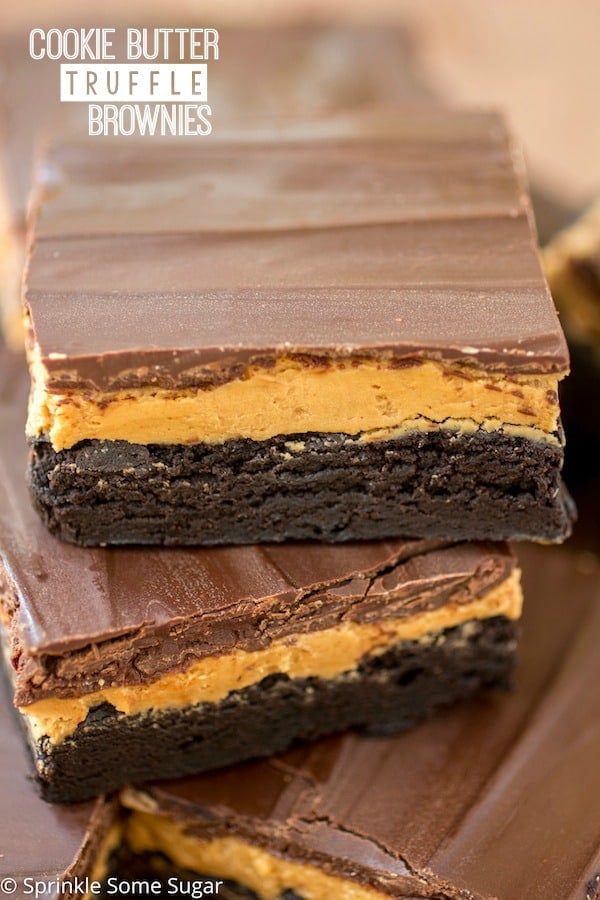 Now, I've made mint truffle brownies and I've made traditional oreo truffle brownies but these.. these have been on my list to make for far too long. Cookie butter is one of those things that you either love or you hate. I, for one, happen to be a lover along with my boyfriend mike. Sometimes you can find us hiding in the corner, spoon in hand going to town on a jar of this glorious stuff.
Maybe you don't know what cookie butter is? Or maybe you know it as Biscoff spread. Basically it tastes like the best graham cracker you've ever eaten, but in a spread form. Flipping amazing.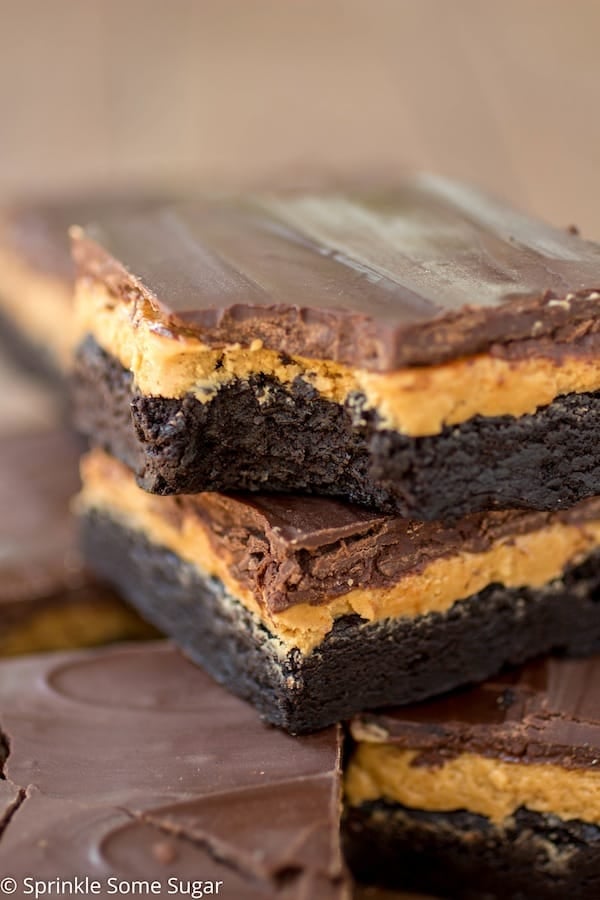 The brownie base is my favorite and you've seen it a million times on my site like these peanut butter frosted brownies, cookies and cream brownies, s'mores brownies, cheesecake and many more. They are so chewy, gooey and ultra chocolate-y due to the addition of dark cocoa powder which lends such a nice, deep chocolate flavor. It's the only brownie recipe I use! If you are more of a cakey brownie person, these brownies probably won't be for you so feel free to substitute your favorite brownie recipe or even a box mix if that's your thing.
Next up is the cookie butter truffle layer which is so soft and silky smooth. I can't get enough of cookie butter on it's own but when it's made into a truffle consistency I just cannot even be trusted around it! Side note: you can make cookie butter truffles out of this mixture by mixing it up and chilling it for at least fifteen minutes in the refrigerator then dip them in chocolate. You better believe that is happening in my very near future.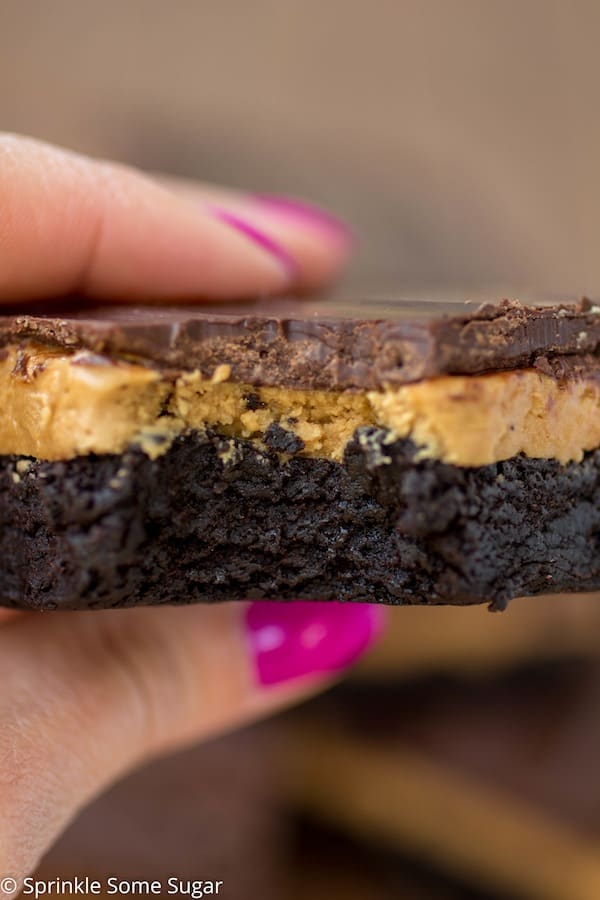 The top layer is just a layer of melted chocolate with some shortening to keep the chocolate a little on the soft side once it sets. Since it's on top of softer layers, it would be hard to bite into a hard chocolate coating and it'll probably crack all over the place too while cutting them.
These cookie butter truffle brownies are the end all of all desserts. Don't believe me? I bet there won't be a crumb left!
[pinterest]
Cookie Butter Truffle Brownies
Ingredients
*Brownie Layer*
10

tablespoons

unsalted butter

1 1/4

cups

sugar

1/4

cup

+3 tbs

regular cocoa powder

1/4

cup

+ 3 tbs dark cocoa powder

1/4

teaspoon

salt

1/2

teaspoon

pure vanilla extract

2

eggs

1/2

cup

all-purpose flour
*Cookie Butter Truffle Layer*
2/3

cup

+ 2 tbs cookie butter

4

tbs

unsalted butter

room temperature

1

cup

+ 2 tbs confectioner's sugar

pinch

of salt

or to taste
*Chocolate Coating*
1

cup

semi-sweet chocolate chips

2

tsp

shortening
Instructions
Preheat oven to 325°. Line a 9x9 baking pan with parchment paper, set aside.

Place butter, both cocoa powders and sugar in a large microwave-safe bowl and microwave for about 1 minute and 30 seconds, or until butter is melted. Mix everything together until smooth. Add in eggs and vanilla and mix until smooth. Pour in the flour and mix until everything is completely combined. The batter will be very thick.

Pour the batter into your prepared baking pan and smooth it out until level. Bake for 22-25 minutes or until a toothpick comes out with a few moist crumbs. The top will not look so "wet" anymore when they are done and the edges will have pulled away from the sides slightly. Let them cool completely in the pan.

While the brownies are cooling, prepare the truffle layer. In a large food processor (I have also used a hand mixer), pulse cookie butter and butter until smooth with no lumps. Add confectioner's sugar and salt and pulse a few times until combined. The mixture should not be a soft dough-like consistency. If the dough seems too wet, add a little bit of sugar. If it feels too dry, add a little bit more cookie butter. Once brownies are completely cool, take chunks of the truffle mixture and pack it onto the brownie in an even layer.

In a small bowl, melt the chocolate chips and shortening at 30 second increments in the microwave until completely smooth and pourable. Pour the chocolate on top of the truffle layer and spread it out with a rubber spatula into a smooth and even layer. Place tray in refrigerator for 20 minutes to allow the top to set up properly. Take the pan out, allow the brownies to come back to room temperature for at least 10 minutes before cutting into them for smoother cuts.

Cookie Butter Truffle Brownies will stay fresh for up to 5 days stored in an airtight container.
[pinterest]
Yum