Chewy, fudgy brownies topped with the creamiest, most delicious frosting ever!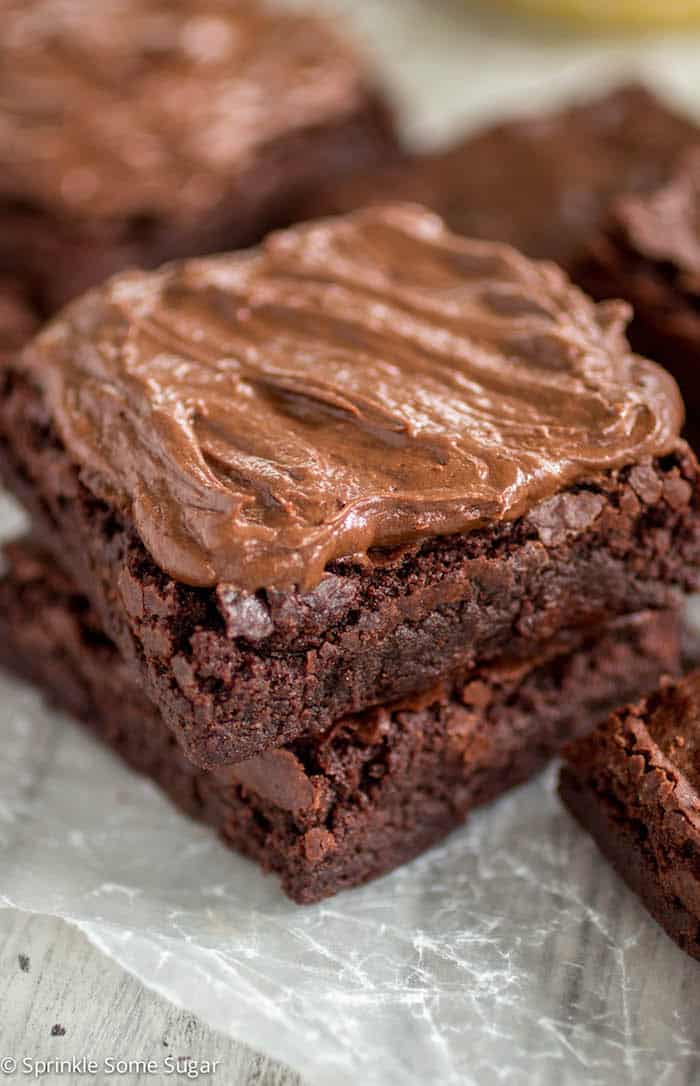 Last week we went to look at a pre-school for my son and I think it's perfect. HOLD MEEEE. I'm so nervous and the thought of leaving him for a few hours with strangers two days a week (I mean, it's only 2 1/2 hours so I think I can handle it..) makes me want to cry. I know it'll be so beneficial for him though because they say the two's are terrible but I'm not so sure because he's three and it's pretty crazy over here! After thinking about my baby growing up, I knew I needed to drown myself in some chocolate. Enter: Chewy Brownies with Chocolate Fudge Frosting.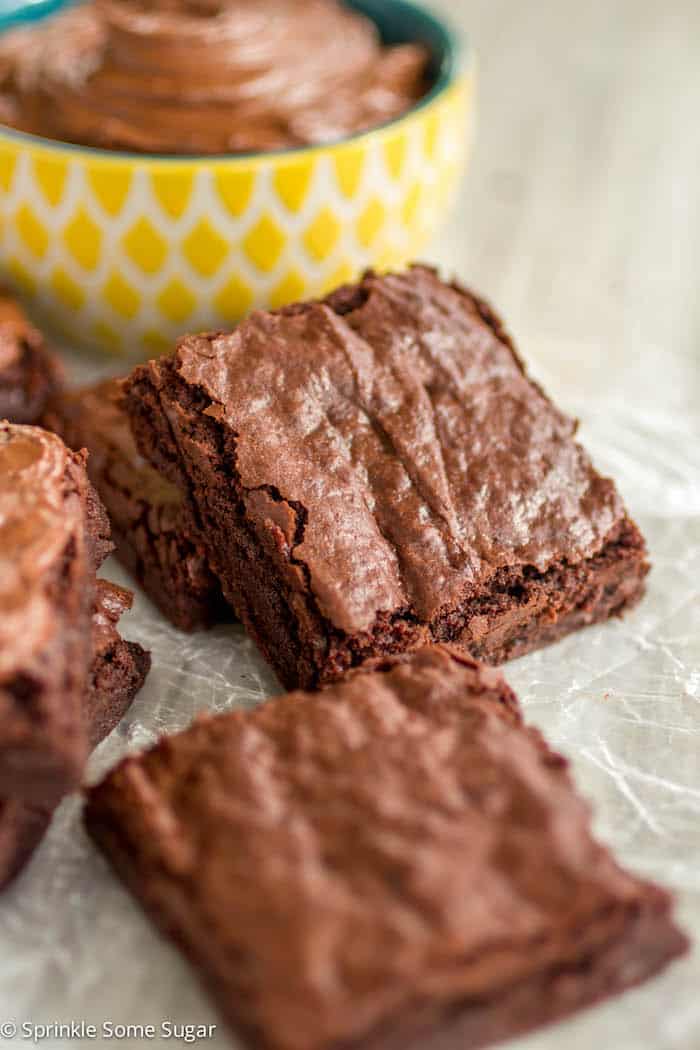 Here's the thing. These frosted brownies have been on my mind for weeks. I realized about a month ago that I didn't have a frosted brownie recipe in my archives and this seemed like the perfect time to deal with that because frosted brownies are such a favorite in our house. You know those frosted brownies that you get at the grocery store in the bakery section? I basically lived on those when I was younger.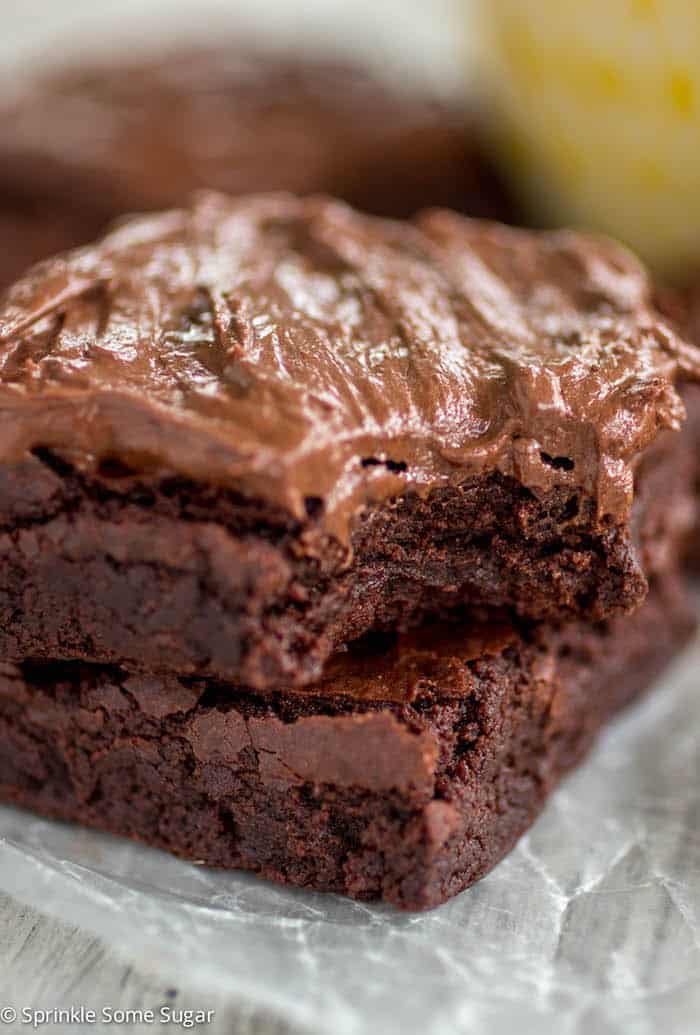 Everyone has a favorite brownie recipe and there are zillions of different recipes you can find all over the place. Some recipes use cocoa powder and some use melted chocolate. I usually stay away from the brownies with melted chocolate just because I am super lazy and I feel like cocoa powder lends a richer tasting brownie anyway so it's a win-win. Some people like fudgy brownies, some like chewy, some like cakey brownies. These brownies are just like your favorite box mix brownies – easy, chewy and super chocolatey.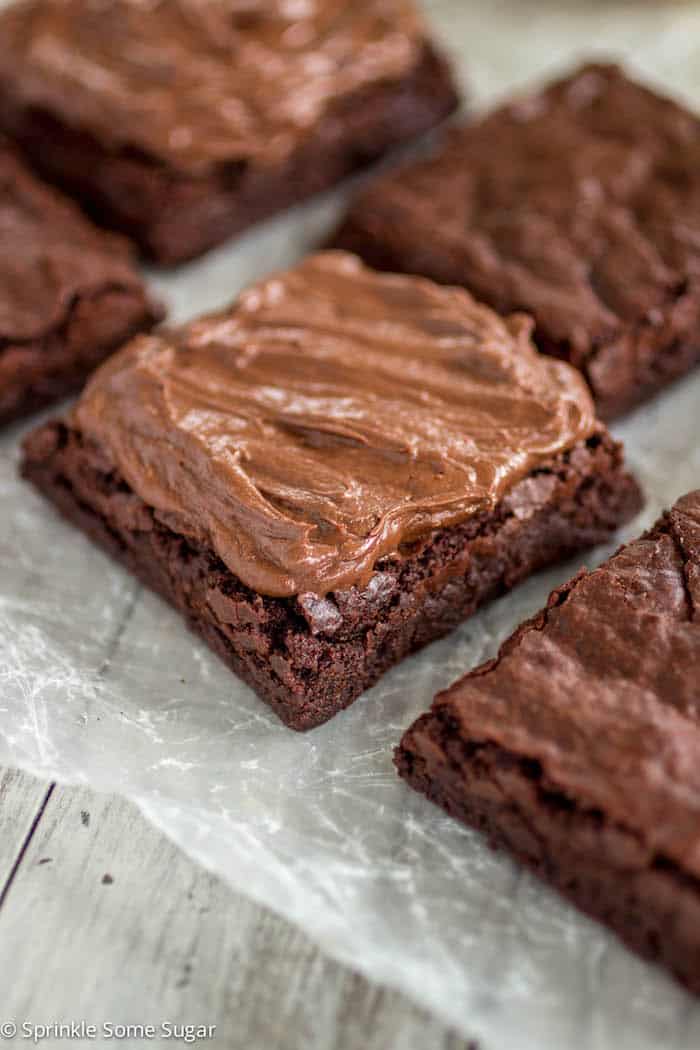 Normally I'm an extra fudgy brownie person (i.e these brownies which I've used in basically recipe you see on this blog that has a brownie involved) but I felt like they weren't a great brownie base for a thick layer of frosting on top because they are crazy fudgy which isn't necessarily a bad thing, but I didn't want these to be TOO rich. SO. I did a few things to change up the recipe like cutting down on the butter a bit, using brown sugar in place of some of the granulated to give them a deeper flavor and adding a teeny bit of  baking powder to make them more of a chewy brownie but still being fudgy at the same time. How gorgeous are the crackly tops! *love*
The frosting is basically the creamiest frosting of life and I want to frost everything in my sight with it! It's SO ridiculously good. It comes together in minutes and uses very basic ingredients. The corn syrup in the recipe gives it that glossy look and makes it insanely creamy. I could not tear myself away from it! This frosting makes a lot and gives you a pretty thick layer of frosting so if you only want a thin layer, I might suggest to cut the recipe in half.
These brownies are it. THE one. The best frosted brownies ever.
Chewy Brownies with Chocolate Fudge Frosting
Ingredients
*Brownies*
1/2

cup

unsalted butter

3/4

cup

granulated sugar

1/2

cup

light brown sugar

1

tsp

vanilla extract

2

eggs

3/4

cup

unsweetened cocoa powder

1/4

tsp

baking powder

1/2

cup

all-purpose flour
*Chocolate Fudge Frosting*
1/2

cup

unsalted butter

softened

3

tbs

corn syrup

1/2

cup

unsweetened cocoa powder

1

tsp

vanilla extract

1 1/2

cup

confectioner's sugar

3

tbs

hald and half

or milk
Instructions
Preheat oven to 350 degrees and line a 9x9 (or 8x8) pan with parchment paper OR greased foil and set aside.

In a large microwave-safe bowl, place butter, both sugars and cocoa powder. Microwave for 1 minute and 30 seconds. Stir very well and allow to cool for about 3 minutes before continuing. Add the eggs and vanilla and stir until incorporated. Pour in the flour and baking powder and mix until combined. the batter will be very thick. Pour mixture into prepared pan and bake for 25-27 minutes or until a toothpick inserted in the center comes out clean. Allow brownies to cool completely in pan before frosting.

While brownies are cooling, prepare frosting. In a large bowl with a hand mixer - or a stand mixer fitted with the paddle attachment - cream the butter and corn syrup until completely smooth with no lumps. Add the cocoa powder and vanilla and beat until smooth. Pour in the confectioner's sugar and mix on low until completely incorporated. The frosting will be extremely thick so don't panic. Add the milk 1 tablespoon at a time until your desired consistency is achieved. Beat for another minutes until thick and creamy. Spread a thick layer on top of the cooled brownies. Slice and serve.

Chewy Brownies with Chocolate Fudge Frosting will stay fresh for up to 5 days stored in an airtight container at room temperature.