A super-rich, fudge brownie loaded with minty flavor, topped with a lucious mint truffle layer and smothered in a mint-spiked chocolate coating. Oh yes.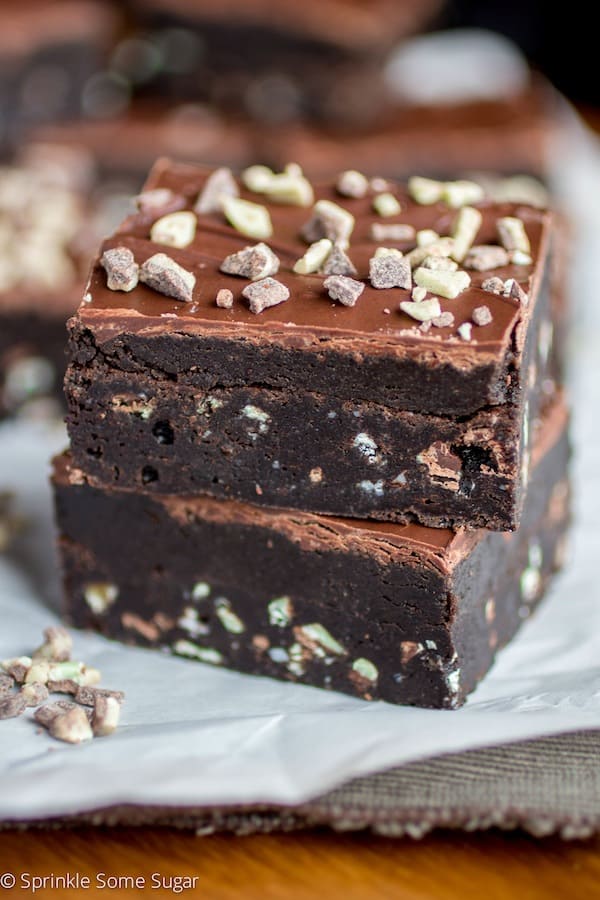 Oh my god you guys, have I got a treat for you today. Not only is chocolate my favorite flavor in the universe but chocolate and mint together pretty much make me want to sing from the rooftops. There is literally nothing better. If you are a chco-mint lover, we are bff's. And that brings me to these mint overload truffle brownies. If you have never had a truffle brownie.. Stop what you are doing RIGHT this second and make a batch. They will be the best brownies you will ever have in your life. You can quote me on that. These brownies are super rich and chocolate-y + loaded with minty flavor, topped with a luscious mint Oreo truffle layer and then smothered in a mint spiked chocolate coating. Talk. About. AMAZING.
Do you understand how anybody can think chocolate-mint desserts taste like toothpaste? I mean I guess I sorta get it? But it's just SO. GOOD.
Funny story: Mike is one of those weird mint haters and the other day he came home from work and was so excited when he saw these sitting on the counter. Little did he know, they were mint. He was SO disappointed when he took a bite to discover that and begged me to make plain ones. Because I'm the best girlfriend ever, the next day I made him a batch of plain chocolate ones, and he was in truffle brownie-loving heaven.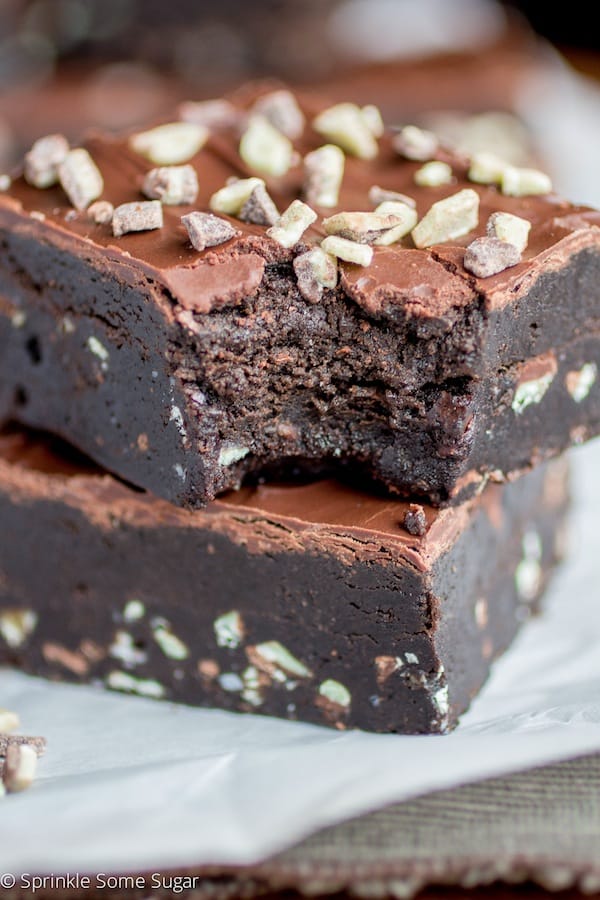 If you find yourself in a mint hater situation or are a mint hater yourself (I guess we can see be friends), feel free to completely omit all peppermint extracts, substitute chocolate chips for the Andes baking chips (or no chips at all) and regular Oreos for the mint Oreos. It's so simple! You can really do any flavors you want. So fun!!
These are so crazy simple to throw together. I used my trusty rusty favorite brownie recipe that comes together in minutes. This time though, I used a mixture of regular cocoa powder and dark cocoa powder just to really give the brownies the extra oomph of rich chocolate flavor. While the brownies are in the oven, I pulse the truffle ingredients in the food processor and get that layer ready. Once the brownies are done and completely cool, press the truffle mixture on top and slather your melted chocolate mixture on top of the truffle layer. Easy peasy!
I am not joking when I say that these are the best brownies E-V-E-R. Would I lie to you? Never.
[pinterest]
Mint Overload Truffle Brownies
Ingredients
Brownie Layer
10

tablespoons

unsalted butter

1 1/4

cups

sugar

1/4

cup

+3 tbs

regular cocoa powder

1/4

cup

+ 3 tbs dark cocoa powder

1/4

teaspoon

salt

1/2

teaspoon

pure vanilla extract

1/4

tsp

peppermint extract

2

eggs

1/2

cup

all-purpose flour

1

cup

Andes Baking Chips
*Truffle Layer*
4

oz

cream cheese

cubed & at room temperature

1

whole package mint Oreos

30 cookies
*Chocolate Coating*
1

cup

semi-sweet chocolate chips

2

tsp

shortening

1-3

drops peppermint extract
Instructions
Preheat oven to 325°. Line a 9×9 baking pan with parchment paper, set aside.

Place butter, both cocoa powders and sugar in a large microwave-safe bowl and microwave for about 1 minute and 30 seconds, or until butter is melted. Mix everything together until smooth. Add in eggs, vanilla and peppermint extract and mix until smooth. Add Andes chips at this point because it is hard to evenly distribute when flour is added. Pour in the flour and mix until everything is completely combined. The batter will be very thick.

Pour the batter into your prepared baking pan and smooth it out until level. Bake for 22-25 minutes or until a toothpick comes out slightly moist with a little bit of batter left on it – the top will not look so "wet" anymore when they are done. This is what makes them fudgy. Let them cool completely in the pan.

While the brownies are cooling, prepare the truffle layer. In a large food processor, add one whole package of mint Oreo cookies and pulse into a fine crumb. Dump in cream cheese and pulse until a "dough" like consistency forms and you can't see the cream cheese anymore. Once brownies are completely cool, take chunks of the truffle mixture and pack it onto the brownie in an even layer.

In a small bowl, melt the chocolate chips and shortening at 30 second increments in the microwave until completely smooth and pourable. Stir in peppermint extract. Pour the chocolate on top of the truffle layer and spread it out with a rubber spatula into a smooth and even layer. Place tray in the refrigerator for 20 minutes to allow the top to set up properly. Take the pan out, allow the brownies to come back to room temperature for at least 10 minutes for smoother cutting lines.

Mint Overload Truffle Brownies will stay fresh for up to 5 days stored in an airtight container.
Notes
Notes: For a non-mint truffle brownie, omit all peppermint extracts, substitute chocolate chips for Andes chips (or none at all) and substitute mint Oreos for regular Oreos.
[pinterest]