These are hands down, my favorite recipe on my site! Deep dark chocolate brownies with a delicious Oreo truffle layer, topped with a soft layer of chocolate. If you want a crowd pleasing recipe, these are for you!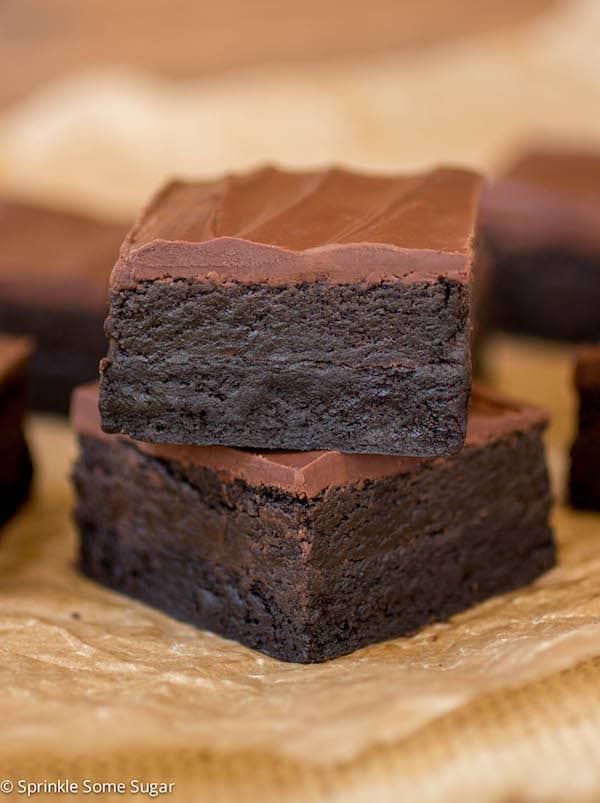 Happy Halloween! I hope you guys have some exciting plans for today. We're going to be trick or treating alllll day long at several different places so this should be fun! But onto more pressing matters… Triple Dark Chocolate Truffle Brownies. Need I say more? I mean, just take a look at the bite photo and tell me I need to convince you to run into the kitchen and make them right now.. -pause- I didn't think so! Hah, just kidding. But really, these brownies are WAY too good for words. These are 100% my favorite recipe on my blog to date! Every single time we have a family gathering or are going anywhere, this is my dessert of choice because everyone always devours them. They go nuts over them! How can they not? You've got a rich, fudgy dark chocolate brownie layer – which is the same recipe I use in basically all of my brownie recipes because I ❤️ it too much to cheat on it with another. Then you've got an Oreo truffle layer – AMAZING. And then it's all topped with a soft layer of chocolate on top.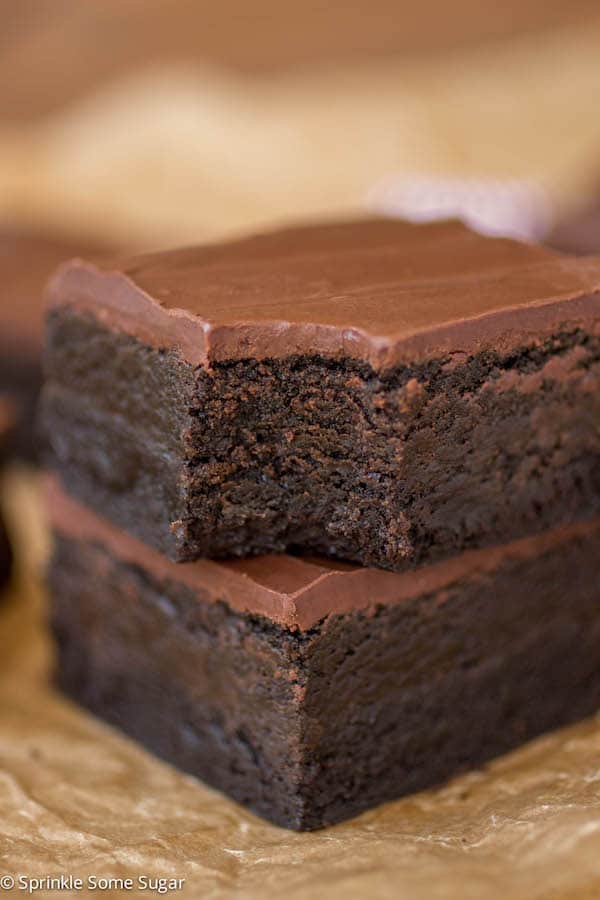 These bars are extremely rich so I usually like to cut them into smaller 2″ squares. Who am I kidding though? I think secretly in my mind I cut them smaller just so I can say I only had a small one, and then go back for another. Isn't that how it works?
Anyways, you NEED to try these brownies! I can bet you a batch of these truffle brownies that you won't be able to go back to regular boring brownies like us.
[pinterest]
Triple Dark Chocolate Truffle Brownies
Ingredients:
10 tablespoons unsalted butter
1 1/4 cups sugar
1/4 cup +3 tbs (regular) cocoa powder
1/4 cup + 3 tbs dark cocoa powder
1/4 teaspoon salt
1 teaspoon pure vanilla extract
2 eggs
1/2 cup all-purpose flour
4 oz cream cheese, cubed at room temperature
1 whole package Oreos (30 cookies)
1 1/2 cup semi-sweet chocolate chips
3 tsp shortening
Instructions:
Preheat oven to 325°. Line a 9x9 baking pan with parchment paper, set aside.
Place butter, both cocoa powders and sugar in a large microwave-safe bowl and microwave for about 1 minute and 30 seconds, or until butter is melted. Mix everything together until smooth. Stir in eggs and vanilla until combined. Pour in the flour and mix until everything is completely combined. The batter will be very thick and glossy.
Pour the batter into your prepared baking pan and smooth it out until level. Bake for 22-25 minutes or until a toothpick comes out slightly moist with a little bit of batter left on it - the top will not look so "wet" anymore when they are done. This is what makes them fudgy. Let them cool completely in the pan.
While the brownies are cooling, prepare the truffle layer. In a large food processor, add Oreo cookies and pulse into a fine crumb. Dump in cream cheese and pulse until a "dough" like consistency forms and you can't see the cream cheese anymore - it will form a large ball when it's ready. Once brownies are completely cool, take chunks of the truffle mixture and pack it onto the brownie in an even layer.
In a small bowl, melt the chocolate chips and shortening at 30 second increments in the microwave until completely smooth and pourable. Pour the chocolate on top of the truffle layer and spread it out with a rubber spatula into a smooth and even layer. Place tray back into the refrigerator for 20 minutes to allow the top to set up properly. Take the pan out, allow the brownies to come back to room temperature for at least 10 minutes for smoother cutting lines.
Triple Dark Chocolate Truffle Brownies will stay fresh for up to 5 days stored in an airtight container.
https://www.sprinklesomesugar.com/triple-dark-chocolate-truffle-brownies/
If you liked these, check out inty other truffle brownie versions!
Cookie Butter Truffle Brownies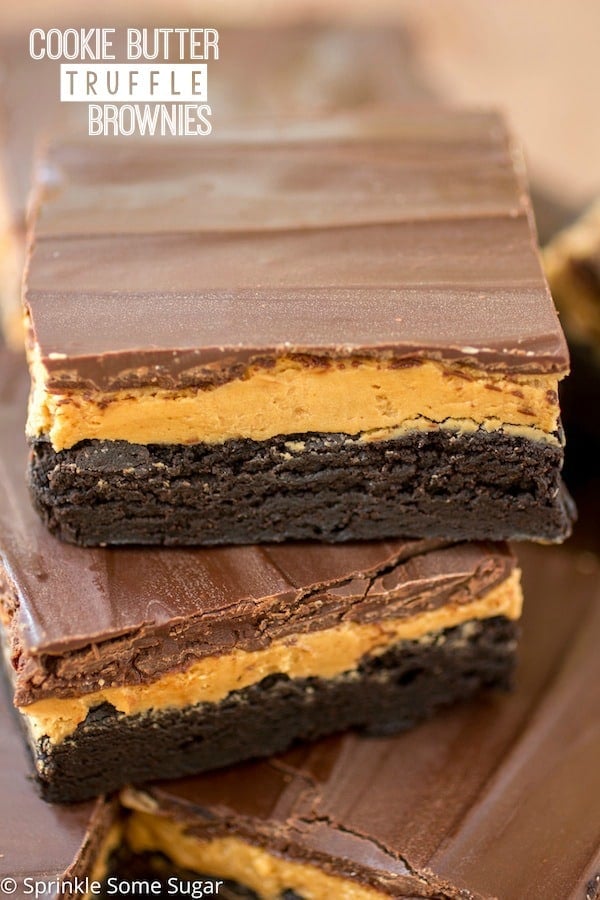 Triple Dark Chocolate Truffle Brownies

Ingredients:

Brownie Layer

10 tablespoons unsalted butter

1 1/4 cups sugar

1/4 cup +3 tbs (regular) cocoa powder

1/4 cup + 3 tbs dark cocoa powder

1/4 teaspoon salt

1 teaspoon pure vanilla extract

2 eggs

1/2 cup all-purpose flour

Truffle Layer

4 oz cream cheese, cubed at room temperature

1 whole package Oreos (30 cookies)

Chocolate Coating

1 1/2 cup semi-sweet chocolate chips

3 tsp shortening

Instructions:

Preheat oven to 325°. Line a 9x9 baking pan with parchment paper, set aside.

Place butter, both cocoa powders and sugar in a large microwave-safe bowl and microwave for about 1 minute and 30 seconds, or until butter is melted. Mix everything together until smooth. Stir in eggs and vanilla until combined. Pour in the flour and mix until everything is completely combined. The batter will be very thick and glossy.

Pour the batter into your prepared baking pan and smooth it out until level. Bake for 22-25 minutes or until a toothpick comes out slightly moist with a little bit of batter left on it - the top will not look so "wet" anymore when they are done. This is what makes them fudgy. Let them cool completely in the pan.

While the brownies are cooling, prepare the truffle layer. In a large food processor, add Oreo cookies and pulse into a fine crumb. Dump in cream cheese and pulse until a "dough" like consistency forms and you can't see the cream cheese anymore - it will form a large ball when it's ready. Once brownies are completely cool, take chunks of the truffle mixture and pack it onto the brownie in an even layer.

In a small bowl, melt the chocolate chips and shortening at 30 second increments in the microwave until completely smooth and pourable. Pour the chocolate on top of the truffle layer and spread it out with a rubber spatula into a smooth and even layer. Place tray back into the refrigerator for 20 minutes to allow the top to set up properly. Take the pan out, allow the brownies to come back to room temperature for at least 10 minutes for smoother cutting lines.

Triple Dark Chocolate Truffle Brownies will stay fresh for up to 5 days stored in an airtight container.

https://www.sprinklesomesugar.com/triple-dark-chocolate-truffle-brownies/

 Overload Truffle Brownies