[pinterest]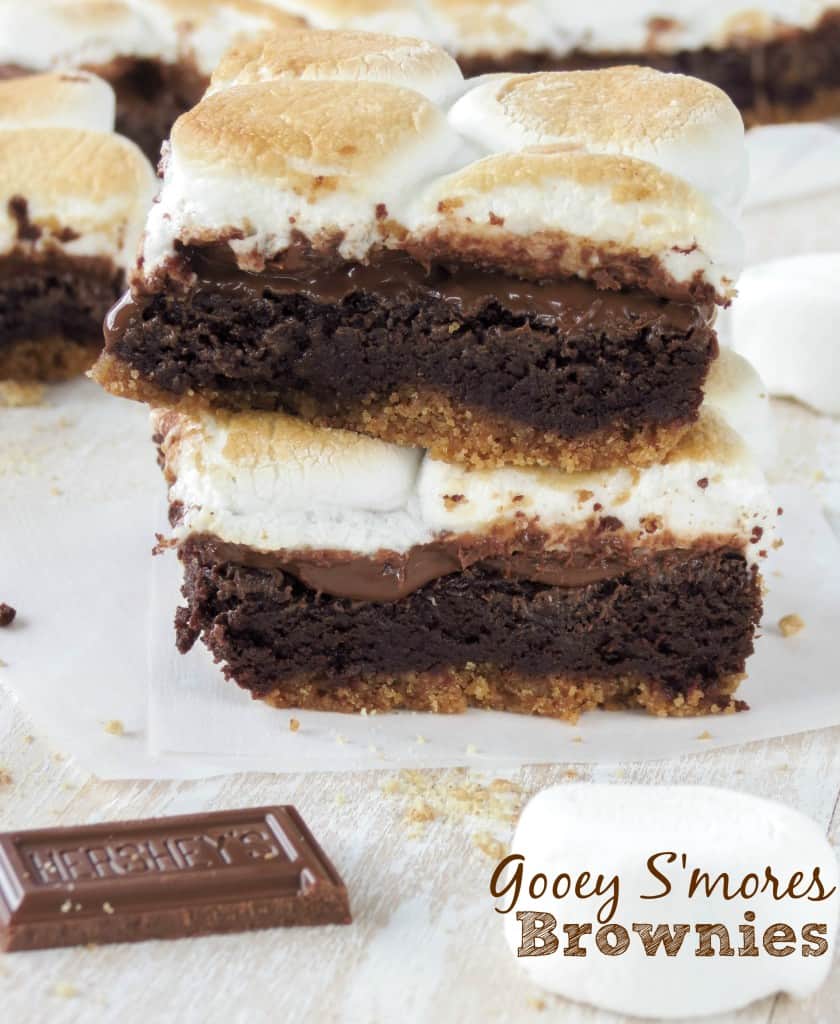 Happy s'mores week guys! I am loving seeing all of these delicious desserts from other bloggers and having so much fun creating some myself! These brownies are the ultimate s'mores dessert. The brownies have a graham cracker crust and are layered with chocolate bars that get nice and melty and roasty toasty marshmallows on top of that. If you ask me, they're pure heaven! I mean, s'mores? Brownies? How could you go wrong here.
I used my go-to brownie and graham cracker crust recipes as the base and went from there. I came up with this idea in my head and honestly thought that the candy bars on top of the warm brownie just wouldn't work. Well, they did, exactly like I imagined! Don't you just love when things go your way?! The chocolate melts under the marshmallows and when cooled, they create the most perfect almost fudge-like layer. They look so pretty, too!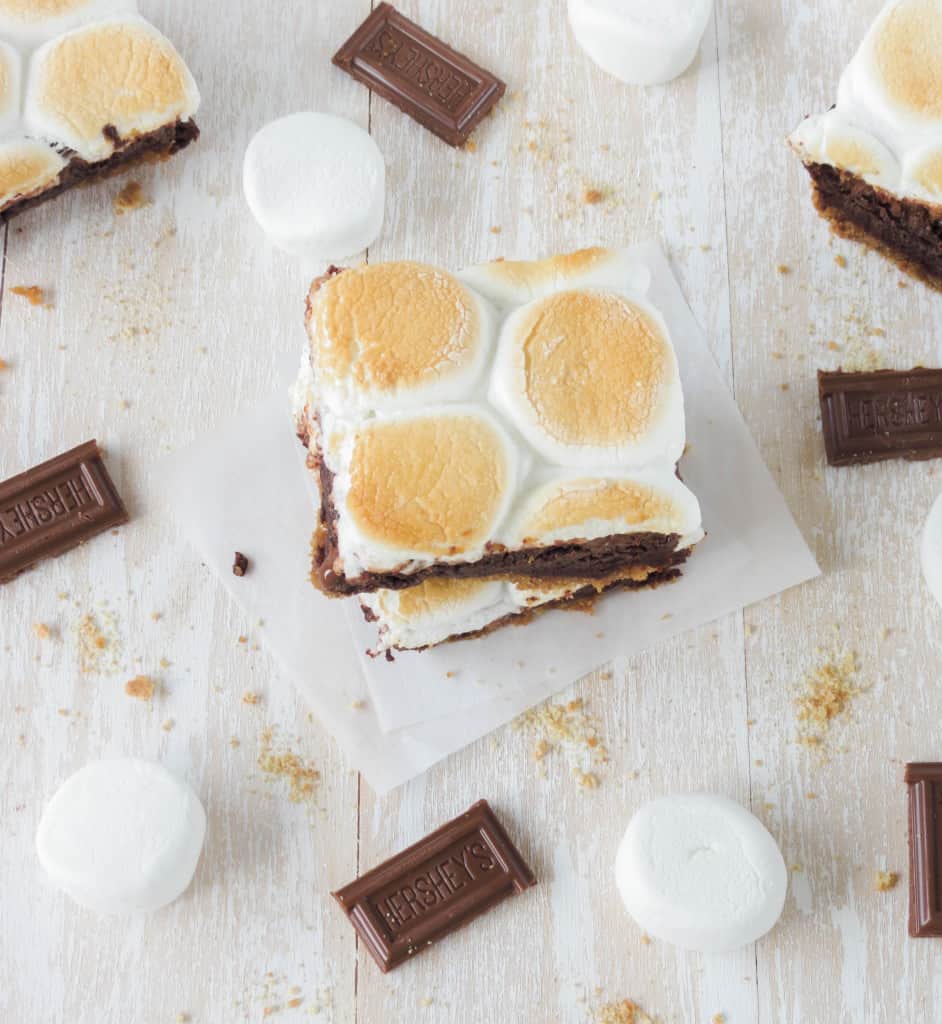 The brownies are super fudgy, just the way I like them. While cakey brownies are okay sometimes, I always stick with fudgy brownies. That's just how I roll.
This recipe can even be made with a box mix, just use the steps for the other layer I have provided. Although, I wouldn't recommend a box mix considering how ridiculously easy the brownies themselves are to make!
Oh yeah! I finally got on the bloglovin train, so be sure to follow me on there!
Follow my blog with Bloglovin
[pinterest]
Gooey S'mores Brownies
Ingredients
*Graham Cracker Crust*
1 1/2

cups

graham cracker crumbs

about 9 whole graham cracker sheets, pulsed very fine

2

tbs

brown sugar

1

tbs

unsalted butter
*Brownie*
10

tablespoons

unsalted butter

1 1/4

cups

sugar

3/4

cup

plus 2 tablespoons cocoa powder

1/4

teaspoon

salt

1/2

teaspoon

pure vanilla extract

2

eggs

1/2

cup

all-purpose flour

25-27

large marshmallows

cut in half

5

regular sized hershey bars
Instructions
Preheat oven to 325°. Line a 9x9 baking pan with parchment paper, set aside.

Prepare graham cracker crust by combining graham cracker crumbs, brown sugar and melted butter and stir very well to distribute all ingredients evenly. Press the mixture very firmly on the bottom of prepared baking pan, set aside.

Place butter, cocoa and sugar in a large microwave-safe bowl and microwave for about 1 minute and 30 seconds, or until butter is melted. Mix everything together until smooth. Add in eggs and vanilla and mix until smooth. Pour in the flour and mix until just combined. Then, mix some more until smooth and somewhat glossy. The batter will be very thick.

Pour the batter on top of graham cracker crust and smooth it out until level. Bake for 25-28 minutes or until a toothpick comes out slightly moist with a few crumbs on it. While brownies are baking take candy bars out of packaging and cut marshmallows in half because you will need to work quickly. Once brownies are done, pull them out of the oven and switch the oven to broil. Place candy bars in a single layer on top of the hot brownies. Break the 5th candy bar to fit around the edges. Line marshmallow halves on top of the candy bar. Place pan back in the oven under the broiler just to brown the marshmallows. Watch carefully because this only takes 30 seconds - 1 minute. Once marshmallows are browned, let the brownies cool for about 20 minutes before cutting into them. I like to stick mine in the fridge for an hour to really let the chocolate set up, then I let them sit out at room temperature. The easiest way to cut them is to spray non-stick spray onto the knife each time you slice through or else the marshmallow will be too sticky and unmanageable.

Brownies will stay fresh and marshmallows will stay soft for up to 3-4 days stored in an airtight container in the refrigerator or at room temperature. If storing in the refrigerator, take them out 1 hour before serving to let them come to room temperature.
[pinterest]