[pinterest]
These brownies are for true chocolate lovers. They are super fudgey, rich and chocolate-y.. I love how simple this recipe is using basic ingredients. I hate when I think I have found a brownie recipe I want to try and then I look at the ingredients and there's like 7 different kinds of melted chocolate in it. I love simple. Simple and I are best friends. Especially in this house with a crazy toddler running around, I don't have time for complicated. These are my go-to brownies and I will always fall back on this one!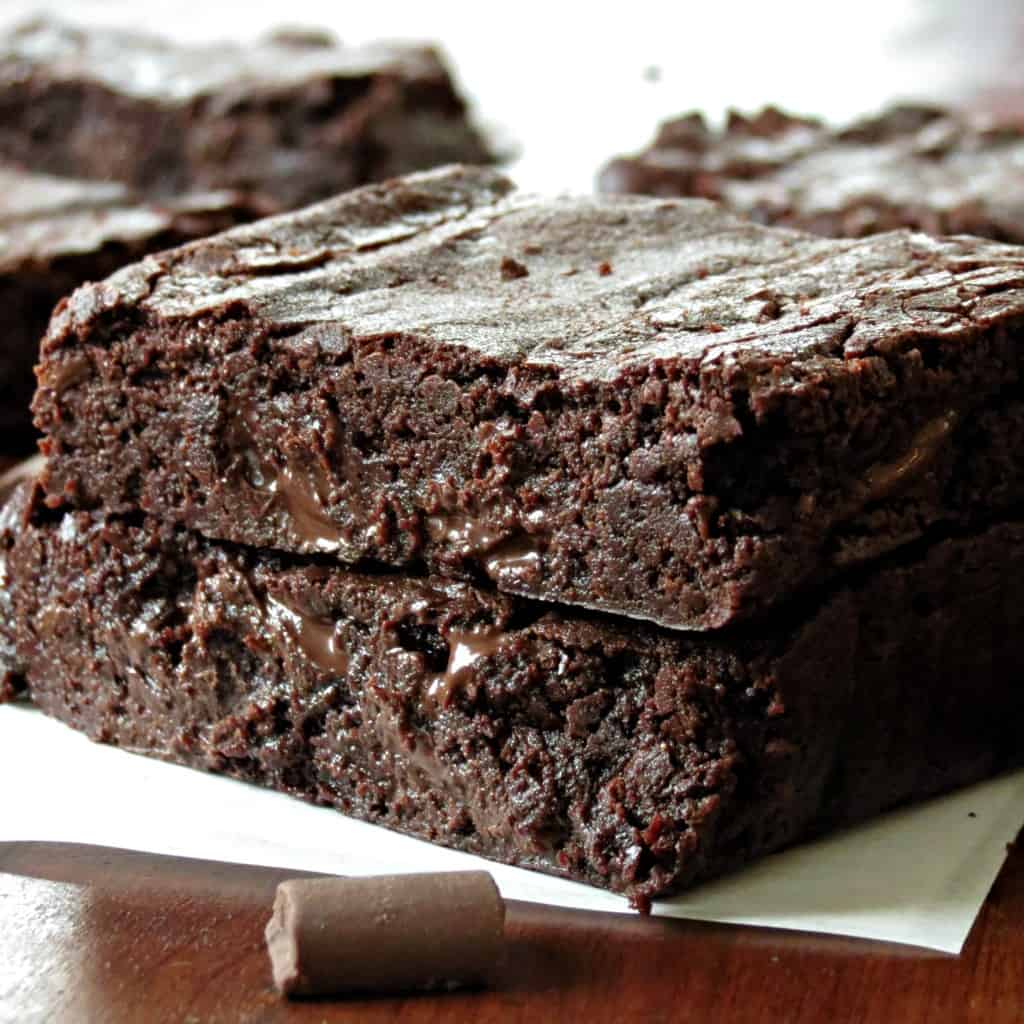 Since this recipe is so simple and versatile, it's great for coming up with different variations! I have used this brownie base over and over again for my peppermint patty brownies, peanut butter frosted brownies, and cookie dough brownie bars just for some examples. This time, I decided to go the simple route and just throw some in some big hunks of chocolate. My favorite. Since I am the biggest choco-holic you'll ever meet, I'd say I'm a great critic for anything chocolate and I am in love with these!
These are so quick and easy to throw together in a pinch. Since there's melted butter used, no need to dirty a mixer – a bowl and spoon is all you need.
These are my family's favorite and I hope they become yours too!
Chocolate Chunk Fudge Brownies
Ingredients
10

tablespoons

unsalted butter

1 1/4

cups

sugar

3/4

cup

plus 2 tablespoons cocoa powder

1/4

teaspoon

salt

1/2

teaspoon

pure vanilla extract

2

eggs

1/2

cup

all-purpose flour

1 1/4

cup

chocolate chunks
Instructions
Preheat oven to 325°. Line a 9x9 baking pan with parchment paper, set aside.

Place butter, cocoa and sugar in a large microwave-safe bowl and microwave for about 1 minute and 30 seconds, or until butter is melted. Mix everything together until smooth. Add in eggs and vanilla and mix until smooth. Add chocolate chunks at this point because it is hard to evenly distribute when flour is added. Pour in the flour and mix until just combined. Then, mix some more until smooth and somewhat glossy. The batter will be very thick.

Pour the batter into your prepared baking pan and smooth it out until level. Bake for 25-30 minutes or until a toothpick comes out slightly moist with a little bit of batter left on it - this is what makes them fudgey. Let them cool in pan for 10 minutes then pull out using the parchment paper and set on wire rack to finish cooling completely.

Brownies will stay fresh for up to 5 days stored in an airtight container
[pinterest]