These bars are a spot on copycat for your favorite Girl Scout cookie made easier in bar form.
Do you love Tagalong cookies but hate waiting alllll year to buy them from the cute little girl scouts waiting outside of the stores? Well, fear not because this homemade version of them can curb your Tagalong cravings all year long! You see, my boyfriend is completely obsessed with these things. Any chance he gets to order or buy them, he will. Yesterday he came home with four boxes. FOUR BOXES of them. He is a Tagalong-aholic. I love baking little treats for him for when he comes home from work, so a few weeks ago when I made these bars, I sent him a picture of them to his phone. He immediately freaked out asking what they were because if you've been following this blog for sometime, you also know of his peanut butter addiction. It's safe to say that when he came home and actually tried one, he was in love!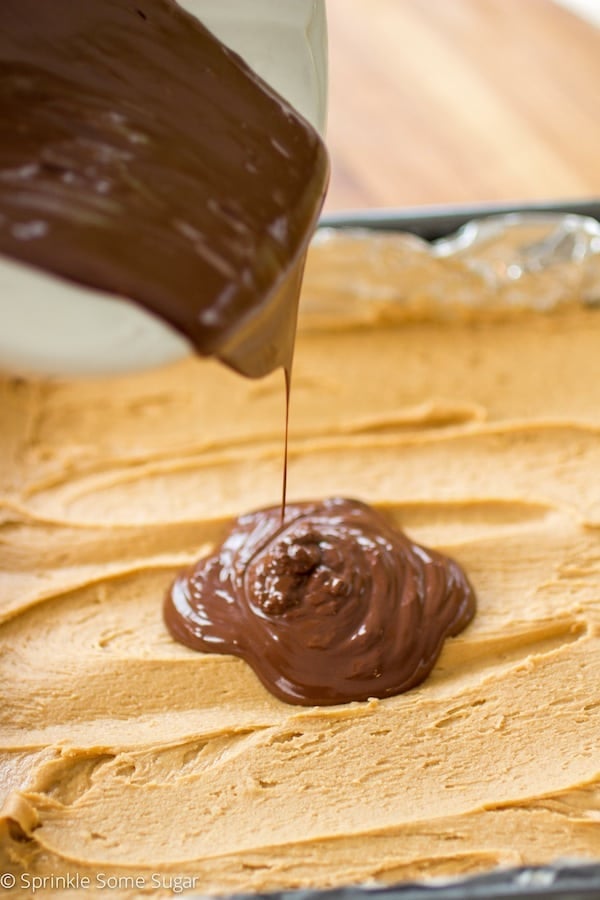 These homemade Tagalong bars are seriously awesome. I don't even like Tagalong cookies that much but these bars, I could have inhaled the whole pan in one shot. Okay, maybe not the WHOLE pan, but close.
Buttery shortbread crust? Check. Sweet peanut butter filling? Check. Soft chocolate layer on top? Checkkkkk.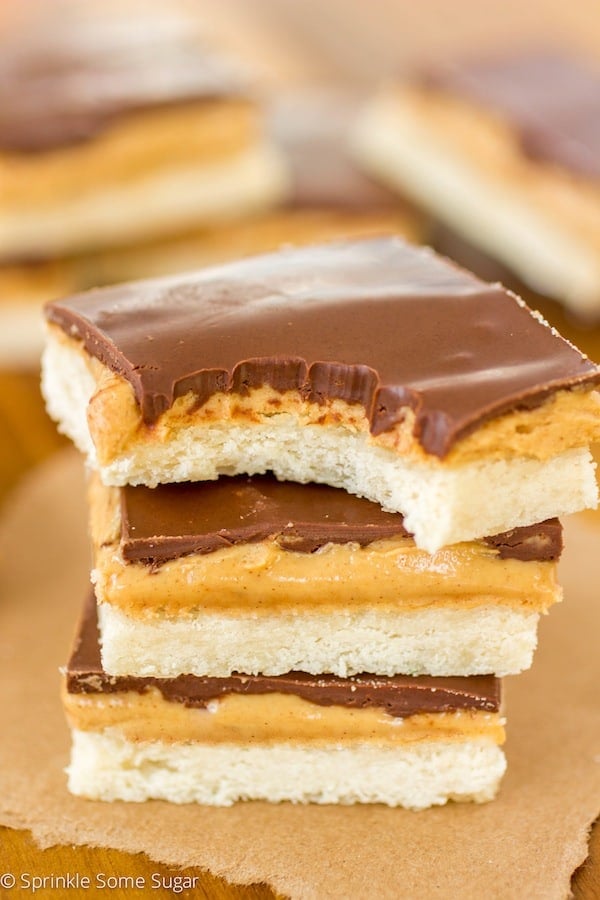 I mean, can you go wrong here? I think not. Sorry little Girl Scouts, but these homemade tagalong bars blow your little cookies to crumbs. 😉
[pinterest]
Homemade Tagalong Bars
Ingredients
*Shortbread Crust*
1/2

cup

unsalted butter

softened

1/2

cup

confectioner's sugar

2

tsp

cornstarch

1/4

tsp

salt

1

tsp

vanilla extract

1

cup

all-purpose flour
*Peanut Butter Filling*
1

cup

peanut butter

like Skippy or Jif

1/2

cup

confectioner's sugar
*Chocolate Coating*
1

cup

semi-sweet chocolate chips

1

tbs

vegetable shortening
Instructions
Preheat oven to 350 degrees. Line a 9x9 pan with parchment paper and set aside.

In the bowl of your stand mixer fitted with the paddle attachment, cream butter until smooth. Mix in confectioner's sugar, corn starch and salt until combined. Stir in vanilla extract. Add flour and mix until just combined. Do not over-mix the dough. Spread dough into prepared pan (it will be a thin layer) and bake for 20-23 minutes or until the edges begin to brown very lightly and the top of the shortbread crust doesn't have a "wet look" anymore. Allow crust to cool completely to room temperature.

Once crust is cooled, combine peanut butter and confectioner's sugar until smooth. Spread on top of shortbread.

In a microwave-safe bowl, combine chocolate chips and shortening. Heat in microwave at 30 second intervals, stirring in between each one until the chocolate is smooth and pourable. Pour chocolate on top of peanut butter and smooth into an even layer quickly and carefully. Chill bars for 30 minutes in the refrigerator or until chocolate on top is set. Cut into bars and serve.

Homemade Tagalong Bars will stay fresh for up to 3 days stored in an airtight container at room temperature. If you are making these a few hours in advance, you may alternatively want to store them in the refrigerator - peanut butter will start to get very soft - and take them out 30 minutes before serving to allow them to come to room temperature.
Recipe adapted from Crazy For Crust.
[pinterest]