Rice Krispie Treats filled and topped with caramel, chocolate and toasted coconut – just like your favorite Girl Scout Cookie!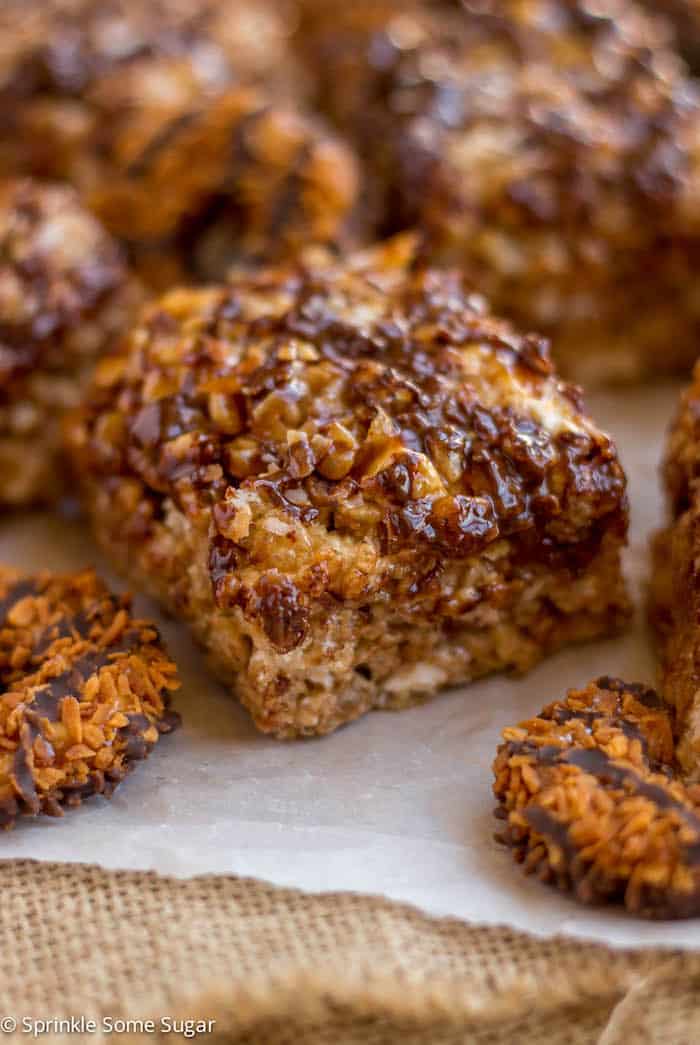 First of all, how good are samoa cookies? I LOVE Girl Scout cookie season! Every time I go to the store and those little girls are outside selling cookies, I get suckered into buying some. And I don't just buy one box at a time, it's at least 3. So.. I currently have about 8 boxes of assorted Girl Scout cookies in the pantry. Since I have an over-abundance because I cannot control myself, I decided to make some recipes with them. First up, Samoa Rice Krispie Treats! These are seriously some of the BEST rice krispie treats I've ever made! They are filled with all of the flavors of samoa cookies AND some chopped up samoa cookies are right in the bars! Talk about, AMAZING!
These rice krispie treats are super flavorful and stay extra soft and chewy due to the caramel and amount of marshmallows in the bars. Like in my perfect rice krispie treats, I made sure to add lots of marshmallows to these too so they stay perfectly soft. There's nothing worse than a krispie treat that scratches the roof of your mouth. Ouch!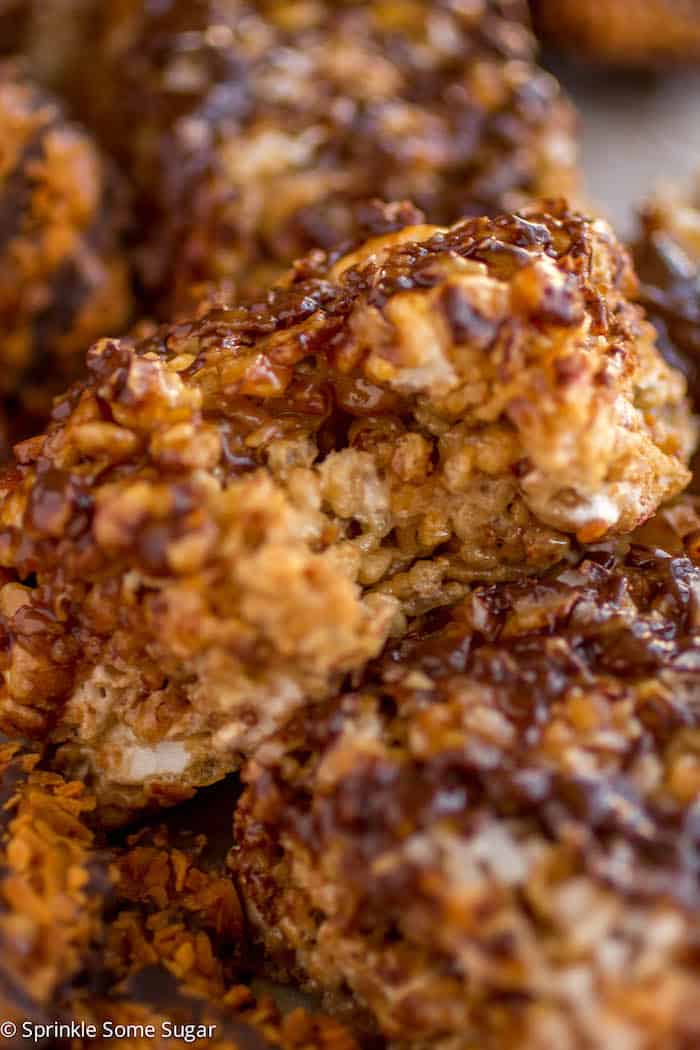 In these rice krispie treats we've got marshmallows, homemade caramel, toasted coconut, chopped up samoa cookies and on top theres even more toasted coconut, caramel and melted chocolate! There's so much going on in these bars and they're totally over the top in the best way possible!! If you are a lover of coconut/caramel/chocolate – you will want to eat the entire batch yourself. Take it from me!
Samoa Rice Krispie Treats
Ingredients
*Samoa Rice Krispie treats*
1/2

cup

unsalted butter

7

cups

mini marshmallows

DIVIDED - see recipe

8 1/2

cups

crispy rice cereal

1/2

cup

toasted coconut

8

Samoa cookies

roughly chopped

3/4

cup

caramel Homemade or store-bought
*Topping*
1/2

cup

toasted coconut

1/2

cup

dark chocolate

melted

1/2

cup

caramel
Instructions
In a large pot, melt butter. Add 6 cups of marshmallows and stir until almost all the way melted. Pour in the cereal, toasted coconut, chopped cookies and caramel and stir until everything is completely coated. At the last few seconds, add in the remaining cup of marshmallows and stir so they melt a tiny bit. This is what keeps the rice krispie treats super soft and chewy. Dump into prepared pan and pack down VERY WELL. If you don't pack them down enough, they may fall apart (they'll still taste delicious though!).

Top the bars with a layer of coconut. Then, drizzle chocolate and caramel on top. Allow the chocolate to set a bit before cutting them into bars.

Samoa Rice Krispie Treats will stay fresh for 5 days stored in an airtight container at room temperature.
If you love Rice Krispie Treats, you'll LOVE my Perfect Rice Krispie Treats! They're truly perfect. Look at those hunks of marshmallow!!