[pinterest]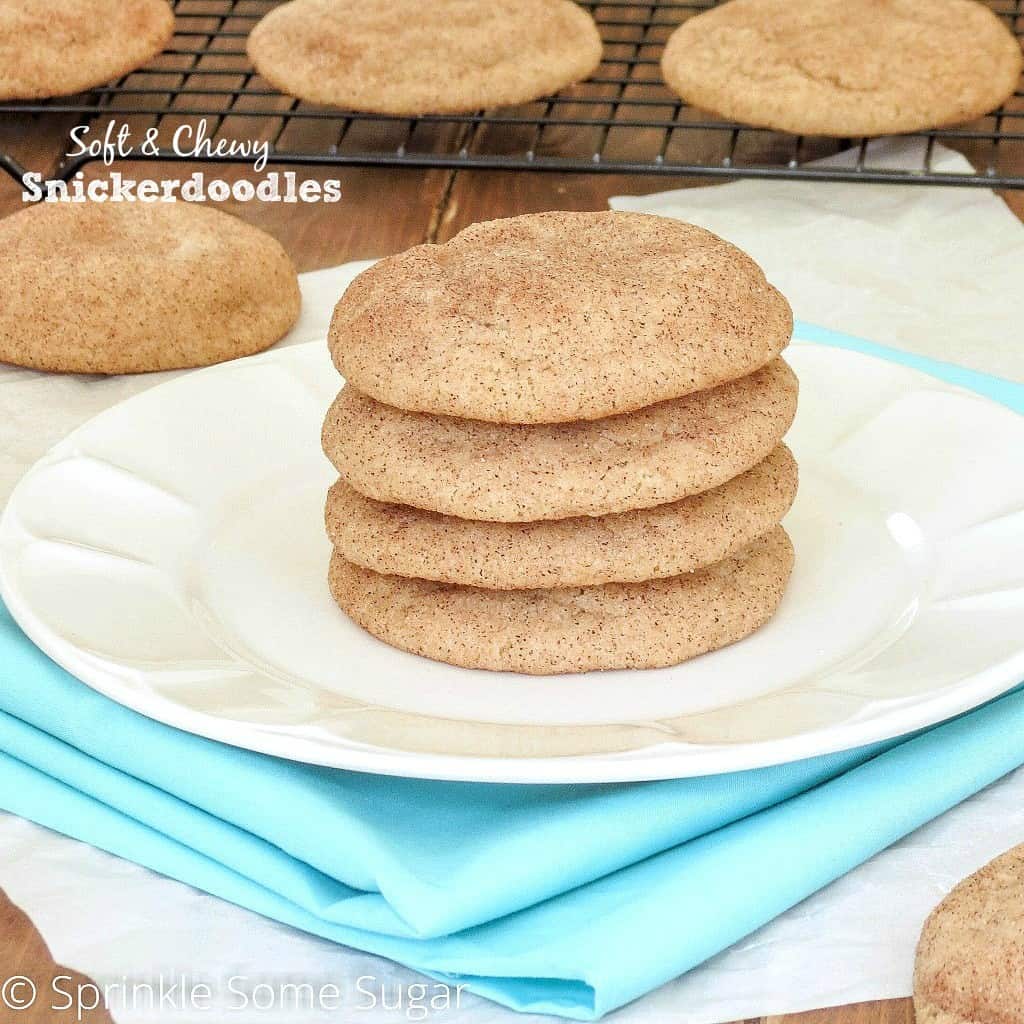 Cinnamon sugar. My favorite combination in the entire world. I could eat the stuff by the spoonful. Well, maybe not, but it's seriously the best. If you follow this blog, you for sure know about obsession with it. And that's why snickerdoodles are one of my absolute favorite cookies ever! There are a billion and one snickerdoodle recipes out there. Some are flat and crispy, some soft and thick. But THESE. Huge, soft, chewy, thick, pillowy snickerdoodles completely smothered in cinnamon sugar. They're the epitome of perfection.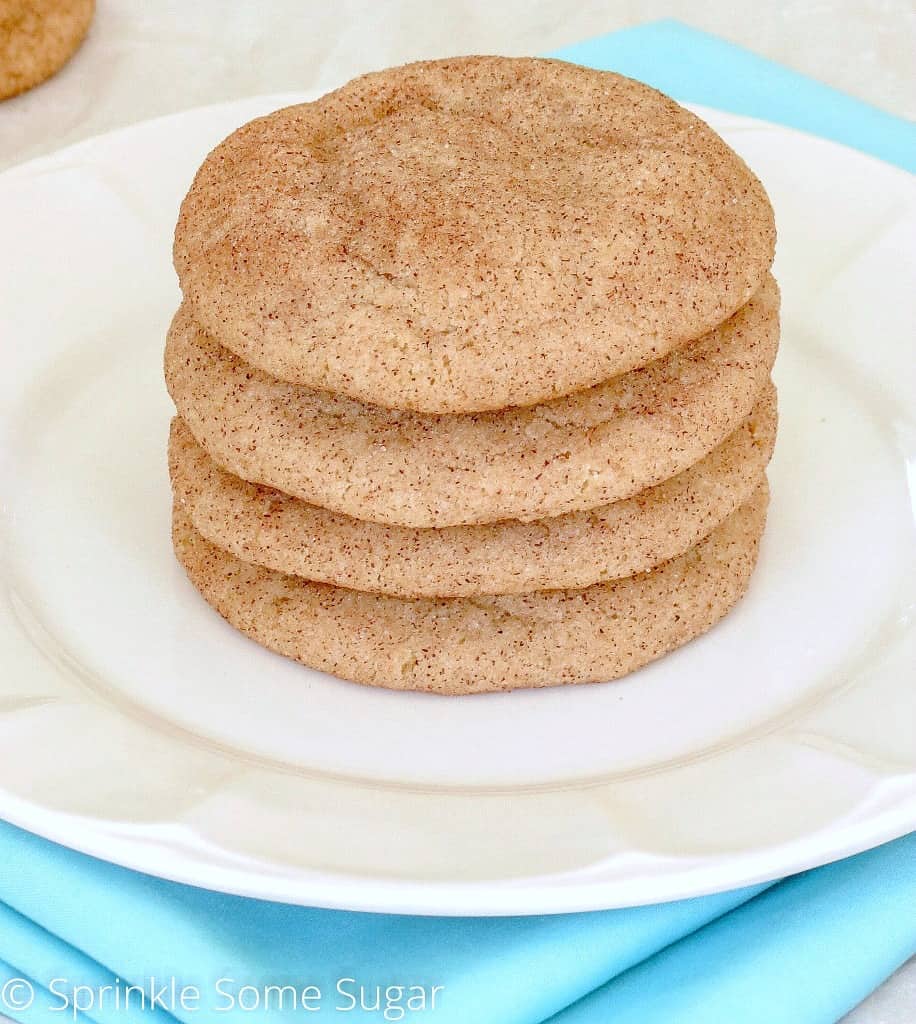 The cookies are soft-baked which means you under-bake them. Just trust me on this one. You want them to look under-baked when they come out of the oven because when they set up, they will keep their soft and chewy interior. They are lightly spiced with cinnamon and of course are rolled in a glorious cinnamon sugar mixture therefore, upping the amazing-ness. To keep these cookies extra soft and chewy I used some of my tips and tricks explained here with my chocolate chip cookies. An extra egg yolk, corn starch and the addition of brown sugar helps in the chewy department.
If you're into flat and crispy cookies, this is definitely not the recipe for you. I guess we can still be friends, but I will just have to keep trying to convince you that soft and thick is best. 😉
I love baking these cookies for the holidays! Wrap them up all cute with a little bow and send them off in pretty little boxes to family and friends. Oh and expect phone calls for the recipe!
When you serve these babies just wait for the oooh's and aaah's coming from everyone's mouths after taking just one bite. It's guaranteed!
[pinterest]
Soft & Chewy Snickerdoodles
Ingredients
*Snickerdoodles*
1

cup

unsalted butter

softened

1

cup

granulated sugar

1/2

cup

light brown sugar

1

egg

1

egg yolk

2

tsp

vanilla extract

3

cups

all-purpose flour

1

tsp

baking soda

1 1/2

tsp

cream of tartar

2

tsp

cinnamon

1 1/2

tsp

corn starch

pinch

salt
*Cinnamon Sugar Coating*
1/4

cup

granulated sugar

2

tsp

cinnamon
Instructions
Preheat oven to 350 degrees. Line baking sheet with parchment paper, set aside.

In a large bowl (or the bowl of your stand mixer fitted with the paddle attachment) cream butter and sugars together until light and fluffy. Beat in eggs and vanilla until completely combined. Add flour, baking soda, cream of tartar, cinnamon, corn starch and salt and mix until just combined without over-mixing.

Whisk cinnamon and sugar together in a small bowl.

Roll dough into 1 1/2-2" balls, roll in cinnamon sugar and place on prepared baking sheet. Bake for 10-11 minutes. Cookies will seem under-done with finished baking but when they set up they will keep a soft and chewy interior. If you like crispier cookies, bake for a minute or two longer. Allow cookies to cool on hot pan for 10 minutes before transferring to wire racks to finish cooling completely.

Snickerdoodles will stay soft and fresh for up to 4 days stored in an airtight container.
[pinterest]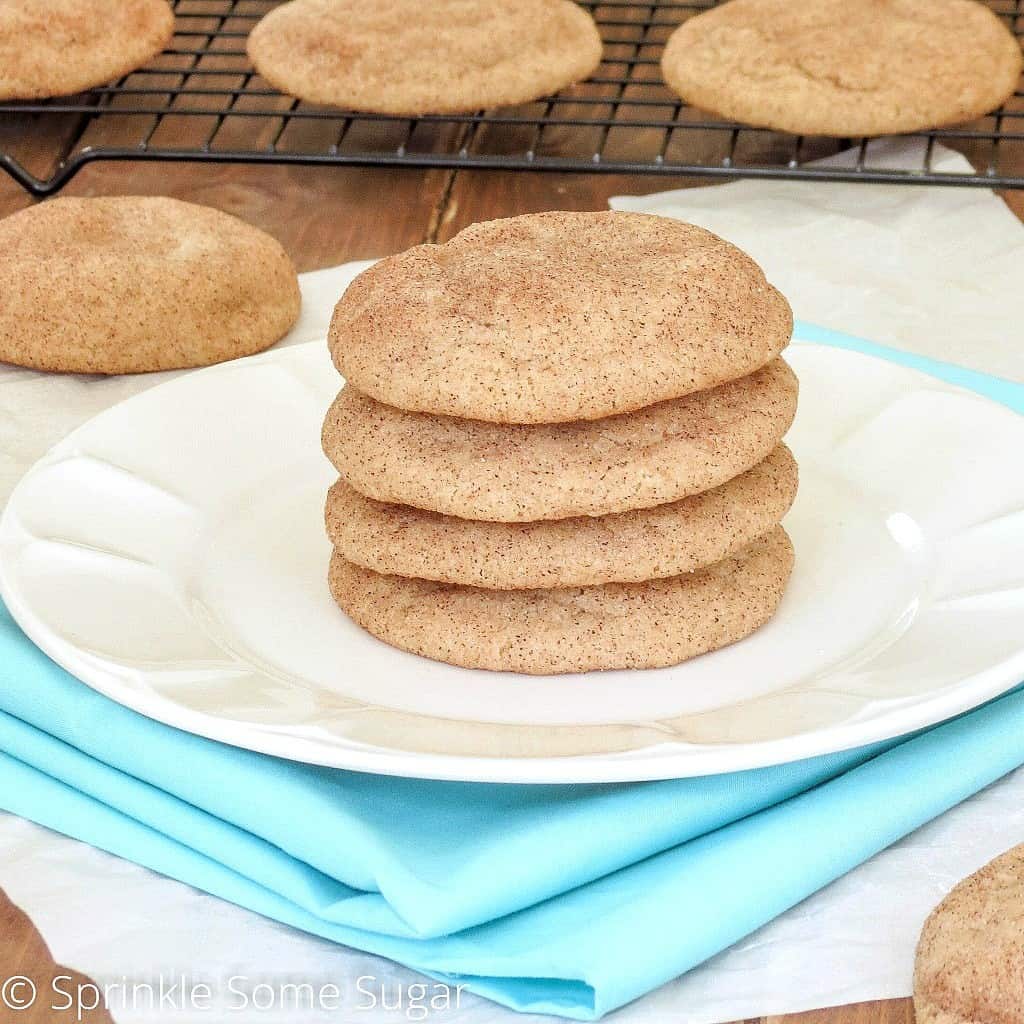 [pinterest]