Incredibly soft, chewy and perfectly spiced. Perfect for the holiday season!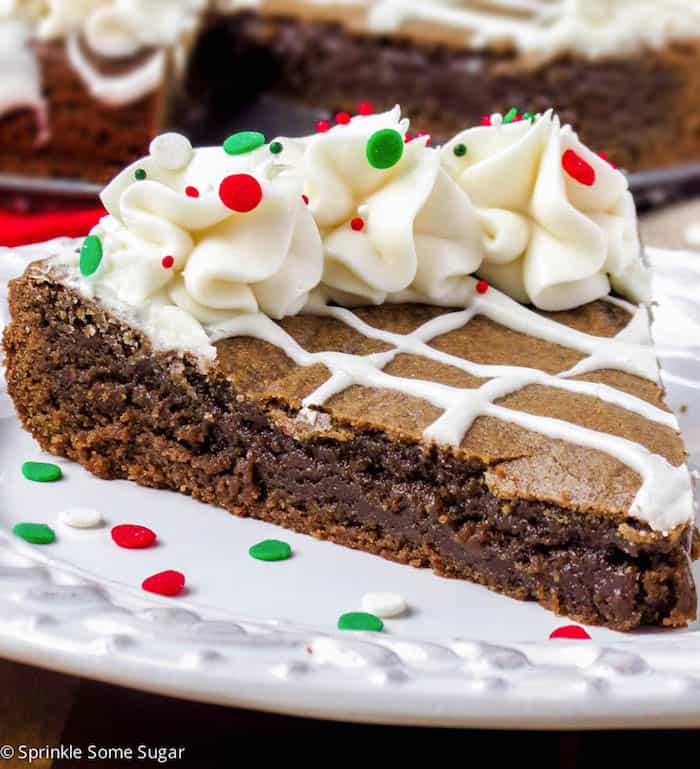 I <3 Cookie cakes. They have become one of my favorite things to make because they are super easy and you can make them look so beautiful with minimal effort! I make my chocolate chip cooke cake for just about every occasion. But this Gingerbread version is perfect for the Holidays! The cookie is extremely soft and stays that way for days on end. The flavors are even more pronounced as the days go on!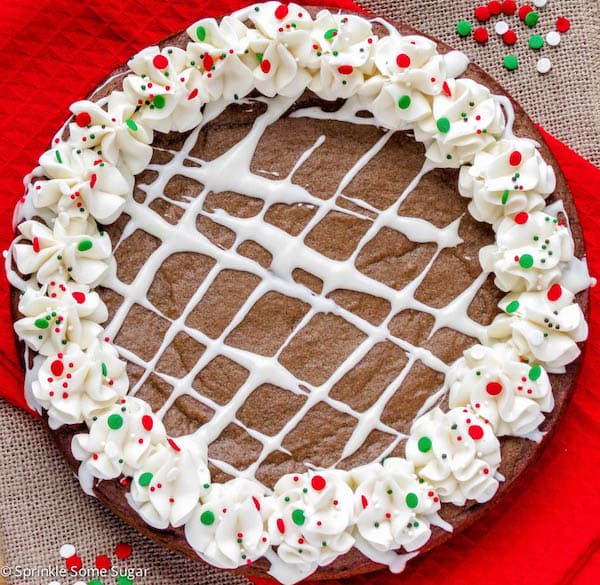 There's just something about flavors like ginger, nutmeg, cinnamon and cloves that make you feel all warm and cozy inside. I do add a heavy hand of spices to this gingerbread cookie cake, so if you don't want yours as spiced, feel free to scale them down. I don't recommend it though, it's so delicious the way it is.
I made this, set it on the counter and by the next day, there's already only a little sliver left. I'm saving the last slice for Mike's mom though because she loved it and between her and I, we almost devoured the entire thing ourselves! She's even making it this week for her work's Christmas party because she just can't get enough of it. I don't blame her though, it's awesome!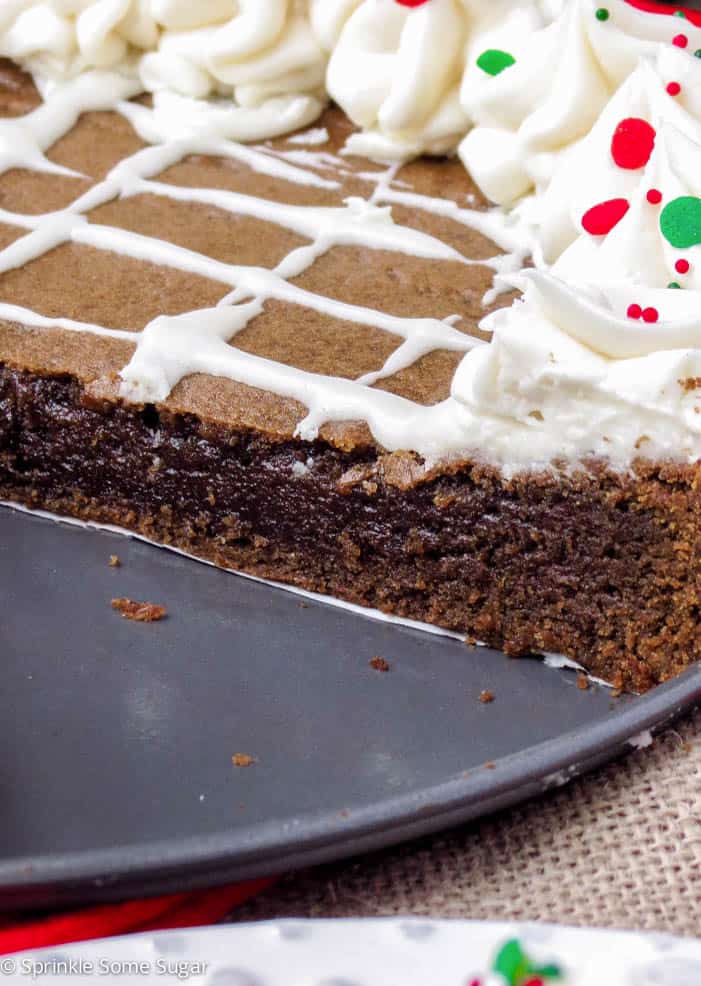 The cream cheese frosting really sets this cookie cake over the top. I just love adding cream cheese frosting to any spiced dessert! From
pumpkin spice cupcakes
to
carrot cake
, it is the most amazing combination with anything spiced.
I love how you can get so creative with decorating cookie cakes. I decided to pipe my frosting around the edges but before doing so, I melted some of the frosting in the microwave and drizzled it on top so there would be a little bit of frosting in every bite! Alternatively, you could just frost the entire thing and then decorate with sprinkles if you don't have the time or patience to pipe the frosting on, but it just looks so pretty!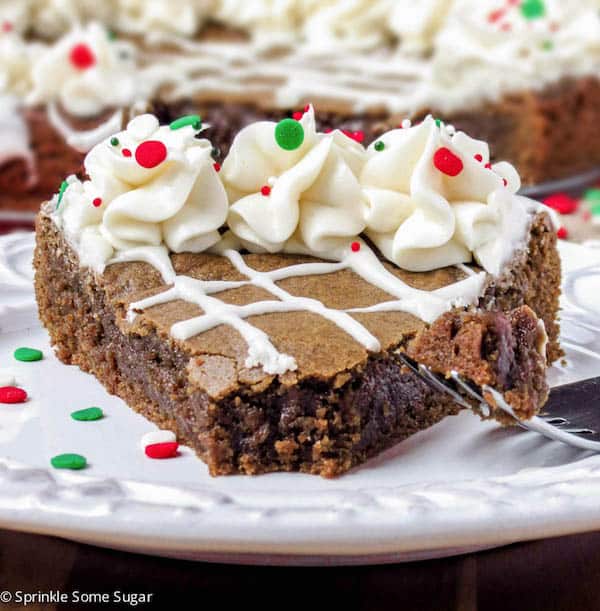 This gingerbread cookie cake would be an amazing and beautiful addition to any Holiday party you have coming up. Your guests will without a doubt be requesting the recipe!
[pinterest]
Gingerbread Cookie Cake
Ingredients
*Gingerbread Cookie Cake*
3/4

cup

unsalted butter

softened

1

cup

dark brown sugar

1

egg

1

egg yolk

2

tsp

vanilla extract

1/2

cup

dark molasses

4

tsp

ginger

1 1/2

tsp

cinnamon

1/4

tsp

nutmeg

1/4

tsp

cloves

1

tsp

baking soda

2 1/4

all-purpose flour
*Cream Cheese Frosting*
4

oz

cream cheese

room temperature

1/4

cup

unsalted butter

room temperature

2

cups

confectioner's sugar

sifted

1/2

tsp

vanilla extract
Instructions
Preheat oven to 350 degrees. Grease and line a 9" springform pan with parchment paper, set aside.

In a large bowl, cream butter and brown sugar together until light and fluffy. Beat in egg, egg yolk, vanilla and molasses until completely smooth. Add spices, baking soda and flour and mix until just combined. Dough will be sticky.

Press dough down into prepared pan. Using a rubber spatula or piece of foil sprayed with cooking spray will keep the dough from sticking so it's much easier to spread.

Bake for 22-25 minutes or until the top does't look "wet" anymore. Cookie cake will seem underdone when you take it out, but that is what keeps it so soft and chewy when it sets. If you'd like it to be crispier, bake for 2-3 more minutes. Once done, place pan on wire rack and remove the outer ring. Allow it to cool completely before frosting. At this time, if the cookie cake seems slightly "puffy" around the edges, flatten it very gently with the palm of your hand. Be careful it doesn't stick to your hand though!

While cookie cake is cooling, prepare frosting. Cream together the cream cheese and butter until completely smooth with no lumps. Add in the vanilla. Incorporate the confectioner's sugar one cup at a time until light and fluffy. Once the cookie cake is completely cool, you're ready to frost. If you want it the way I have it, scoop out 2-4 tbs of frosting and microwave for 10 seconds at a time until pourable. Drizzle over the cake. Next, dump icing into a piping bag and pipe around the edges and garnish with sprinkles. Alternatively, you can just frost the entire thing.

Gingerbread Cookie Cake will stay soft and fresh for up to 7 days stored in an airtight container.
[pinterest]