[pinterest]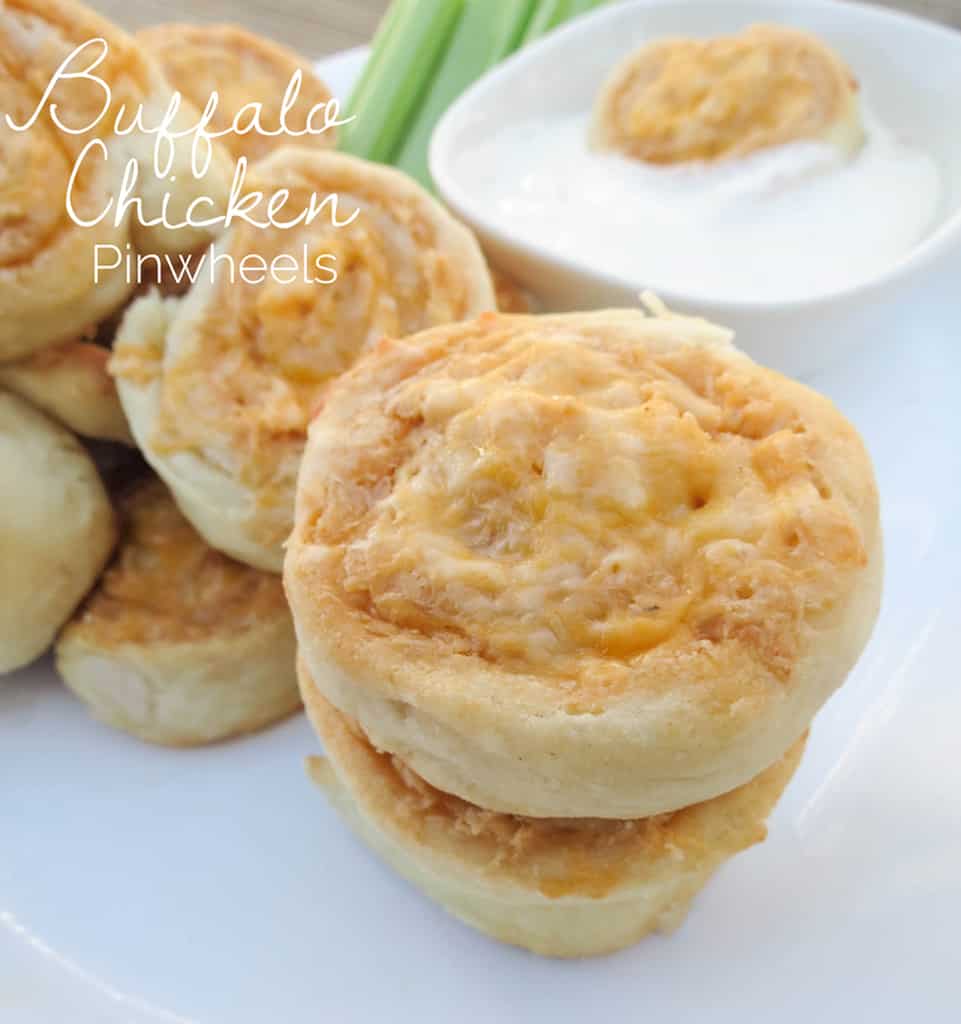 So, this whole week I have been craving buffalo chicken. I don't know why? And one of my favorite ways to eat it is in dip form! Except, I didn't really feel like eating it with chips or celery. I had some frozen homemade puff pastry dough in the freezer, the same kind I used for my blackberry and strawberry danish braids (I only used half of the dough because the recipe makes enough for 2 braids), so I decided why not roll it up in that?! Mmmmm, so delicious. The dough is so buttery and flakey and goes absolutely perfect with the creamy buffalo chicken filling. I'm a wimp so I didn't use much buffalo sauce so feel free to use more if you like it super spicy! Just taste and adjust to your liking.
I love eating little things like this. These are perfect for parties or if you are having a few guests over for a tasty, easy appetizer. You don't even have to roll the "dip" filling into dough, you can just leave it as a dip and serve with chips, celery or anything you like! Also, if you don't have any homemade pastry dough or you don't feel like making it (even though it is so simple, you just have to plan a few hours ahead), you can totally use store bough crescent roll dough, you will get the same result. Right at this very moment I am heating up the leftovers in the broiler, they are sooo good! They are also boyfriend approved, which is a major bonus for me!
To make these, I already had the puff pastry made, so if you don't have it and want to make it yourself, start with that step. If not, use crescent roll dough. Which ever dough you decide to use, prepare it by rolling it out into a large rectangle on a floured surface. I boiled my chicken breast, shredded it, mixed it with the hot sauce and added it to my skillet with the rest of the ingredients and mixed until creamy. If you start seeing a bit of oil in the mixture, that's okay, it's pretty much inevitable because the hot sauce does this. I also found that if you shred your cheese yourself from a high-quality block, there is no flour unlike in the pre-packaged shredded cheeses which makes the oils separate more. After the filling is together and is cooled down, spread it on your dough and sprinkle with cheese. Roll up the dough into a long log and score dough using a measuring tape or ruler 1 inch apart. Cut and place on parchment lined baking sheet, sprinkle with more cheese, bake them up, eat and enjoy! 🙂
I hope you enjoy these just as much as myself and my family do!
[pinterest]
Buffalo Chicken Pinwheels
Ingredients
Buffalo Chicken Dip Filling

1

chicken breast

boiled and shredded

14

oz

cream cheese

¾

c

ranch

½

c

+ 2 tbs Frank's Buffalo Hot Sauce

1 ½

cups

colby monterey jack cheese

divided (measurements for each are in instructions)

*optional 2 oz blue cheese

crumbled (I didn't use)

Homemade Puff Pastry Dough Recipe

or use store bought crescent roll dough

*Optional - extra ranch for dipping
Instructions
Prepare your dough by either following the directions for the homemade puff pastry dough at the link above, or take your crescent roll dough and open up all of the sheets on a lightly floured surface making a big rectangle. Set aside.

1. Preheat your oven to 375°. Line a baking sheet with parchment paper and set aside.

2. After chicken is boiled and shredded toss it with the hot sauce.

3. Add the chicken to a skillet on low-medium heat and add in the cream cheese, ranch and ¼ cup cheese. (You can also add the optional crumbled blue cheese.)

4. Mix around until the cream cheese and cheese melt and everything is nice and smooth. If there is oil, don't worry about it, it doesn't affect the taste at all.

5. Take filling out of the skillet, and put into a bowl. Let it cool down a bit before spooning it on your dough.

6. Once filling is cooled down enough, spread it on your prepared dough until evenly distributed. Sprinkle the remaining ¾ cup of cheese on top. Leave a 1 inch strip on the bottom for easy closure (just like with cinnamon buns).

7. Carefully roll the dough up into a long log. If you are using the store bought crescent rolls and the preforations come apart a bit, don't worry about it, just pinch and keep rolling.

8. Cut off weird ends. Score dough every inch and cut with a serrated knife or dental floss. (Get out the measuring tape!)

9. Place the rolls on your prepared baking sheet and sprinkle with the remaining ½ cup of cheese on all of them. Bake for 14 minutes or until dough starts to brown a bit.

10. Let them cool for 2-3 minutes on the pan then remove and serve warm!