[pinterest]
I swear.. this computer is going to be the death of me. We wiped the hard drive TWICE this week and it still keeps crashing! Ahhhhh. Psycho Jess is in full force right now because it is the most annoying thing EVER. Anyways though, onto more happy stuff. Peach Pie. Last Sunday my family went pumpkin picking and it was pretty awesome. Especially because there were apple cider and cider donuts involved.
Here's our great family photo.... They're hard to come by these days! Ha
And this guy... <3 (Those are baby apples in his hands that he would not let go of for anything.)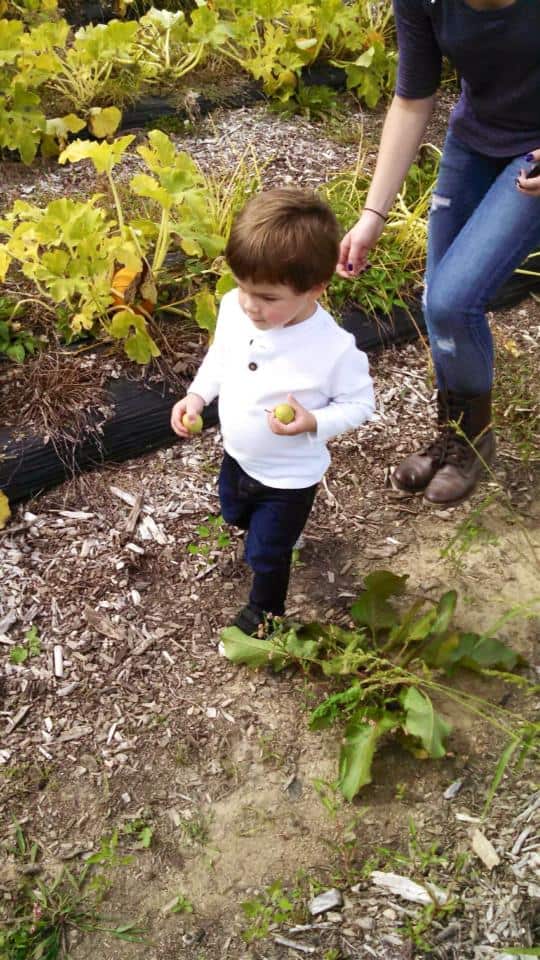 The only thing that wasn't so awesome though, was there were yellow jackets EVERYWHERE. It was incredibly annoying because we were swatting them away the entire time. I mean, like so bad that when you put food down for 1 second there were 6-7 swarming on top of it. Gross! But we did have a really great time and on the way out we got a big bag of peaches and my mommy got me these pretty amazing sunflowers. I was debating on what to do with the peaches and it was pretty obvious.. peach pie.
Don't you just love the smell of peaches? Just the smell alone makes my mouth water. But when baking.. that is something completely different. The smell of the peaches mixed with the scent of spices will make your home smell like Fall for hours. Sounds perfect, right? The filling gets gooey and the flavor is out of this world. The crust is perfectly buttery, flakey and super quick to come together. It holds up to all of the filling and does not become soggy in the slightest!
While the pie is baking, you'll notice the liquid rises to the top a little bit. Don't freak out! I worry every time that my pie is going to come out liquid-y but it never, ever does. By the time it's done baking, everything thickens up beautifully and it's gooey and perfect.
I make this pie every year and I'm telling you.. You will never ever need another peach pie recipe again! You will be hooked.
Also.. Vanilla ice cream is mandatory. What is pie without it?
[pinterest]
Homemade Peach Pie
Ingredients
*Pie Crust*
2 ½

cups

all-purpose flour

¼

teaspoon

salt

3

tbs

granulated sugar

¼

cup

vegetable shortening

cold

¾

cup

salted butter

cold & cubed

2

tbs

-¼ cup cold water

or more as needed
*Peach Filling*
4 ½

cups

peaches

peeled, cored and sliced ½" thin

½

cup

granulated sugar

¼

cup

brown sugar

3

tbs

cornstarch

3

tbs

water

¼

teaspoon

nutmeg

¼

teaspoon

cinnamon

2

teaspoon

lemon juice

1

tbs

salted butter

1

egg white

lightly beaten

1-2

teaspoon

granulated sugar
Instructions
In a large bowl, whisk dry ingredients together and add shortening. Break it up into small pieces and coat with flour. Add cold, cubed butter and squeeze with your hands or use a pastry blender to cut it in until crumbly, like a coarse meal. Add cold water until it just forms into a dough - be sure to only add water as needed as you don't want the dough to be too wet. Form dough into a ball and cut on half. Press into a disk-like shape, wrap tightly in plastic wrap and chill for 30 minutes in the refrigerator before using.

In another large bowl, whisk both sugars together.Toss gently with sliced peaches to coat and set aside for 1 hour.

During this hour, (after the dough has chilled for 30 minutes) get your pie crust ready. Grease a pie plate and roll out each disk to be about 10-11". Press one rolled out crust down into the bottom of the dish, going up the sides. With the second crust, cut into 1-1 ½" strips for lattice top.

Preheat oven to 425 degrees.

After 1 hour, peaches will be sitting in a bowl of juice. In a small bowl, combine corn starch, spices and water until smooth. Separate the peaches and juice and pour the juice in with the corn starch mixture - set the peaches aside for later. Pour mixture into a small saucepan on low heat and whisk until thickened. Be sure to whisk constantly because it may over-thicken very fast and become gloppy. (If this happens don't panic, just whisk furiously and it will smooth out! You want it to be thick enough to coat the back of a spoon and when you slide your finger across, the line should stay for a few seconds.) Stir in butter and lemon juice. Once butter is melted, gently fold in the sliced peaches.

Pour filling into prepared crust and arrange the dough strips into a lattice pattern. Brush the egg white on top of the crust and sprinkle with granulated sugar before placing into oven. Bake for 10 minutes at 425 degrees then turn temperature down to 350 degrees for 40-45 minutes. After about 25 minutes, you may notice the edges are starting to brown. If this happens, cover just the edges with foil and bake for the remaining time. Pie is done when the top is very lightly browned. (While baking, you may notice liquid rises to the top but don't worry, by the time baking is done it will thicken up beautifully.)

Pie will keep for up to 3-4 days stored in an airtight container at room temperature. You may also store in the refrigerator.
Pie crust recipe from Paula Deen. Pie filling adapted from Taste of Home.
[pinterest]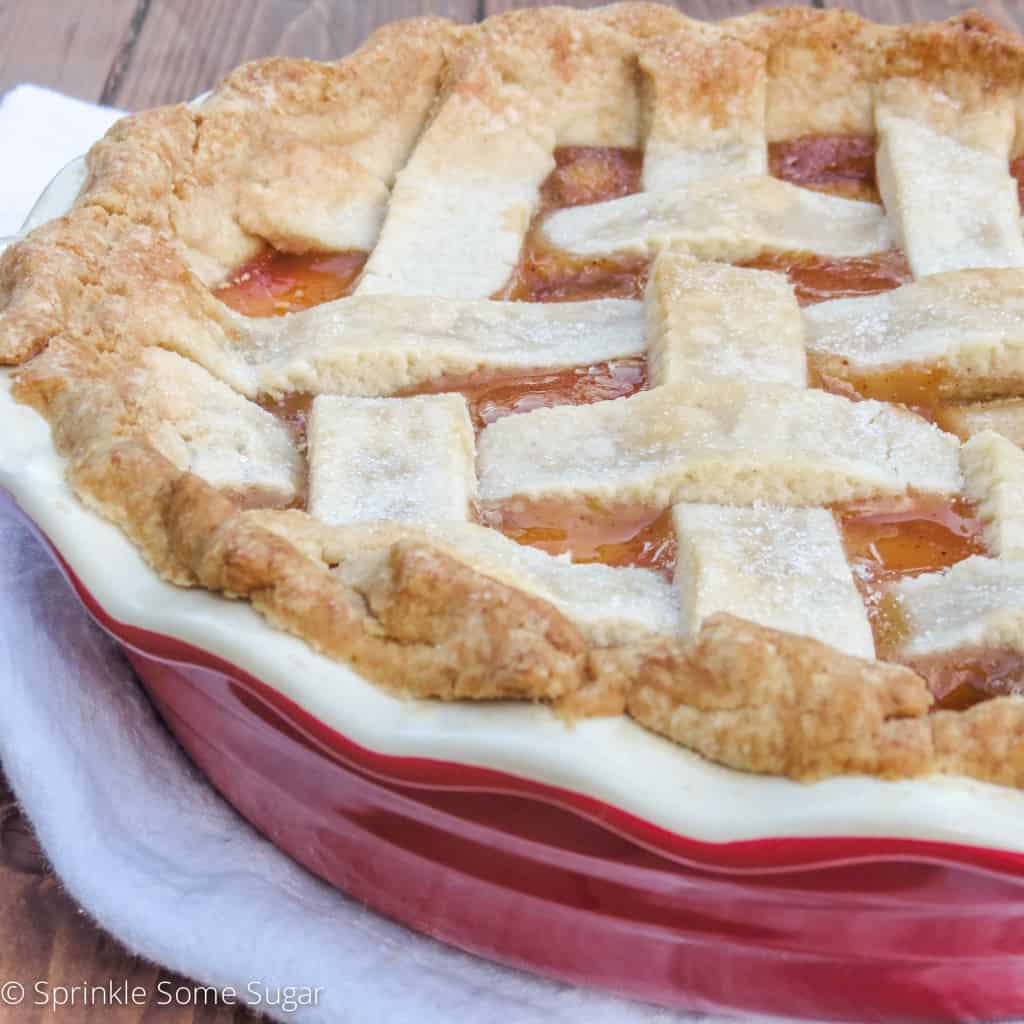 [pinterest]