These adorable little pies are super easy to make and the filling is so delicious.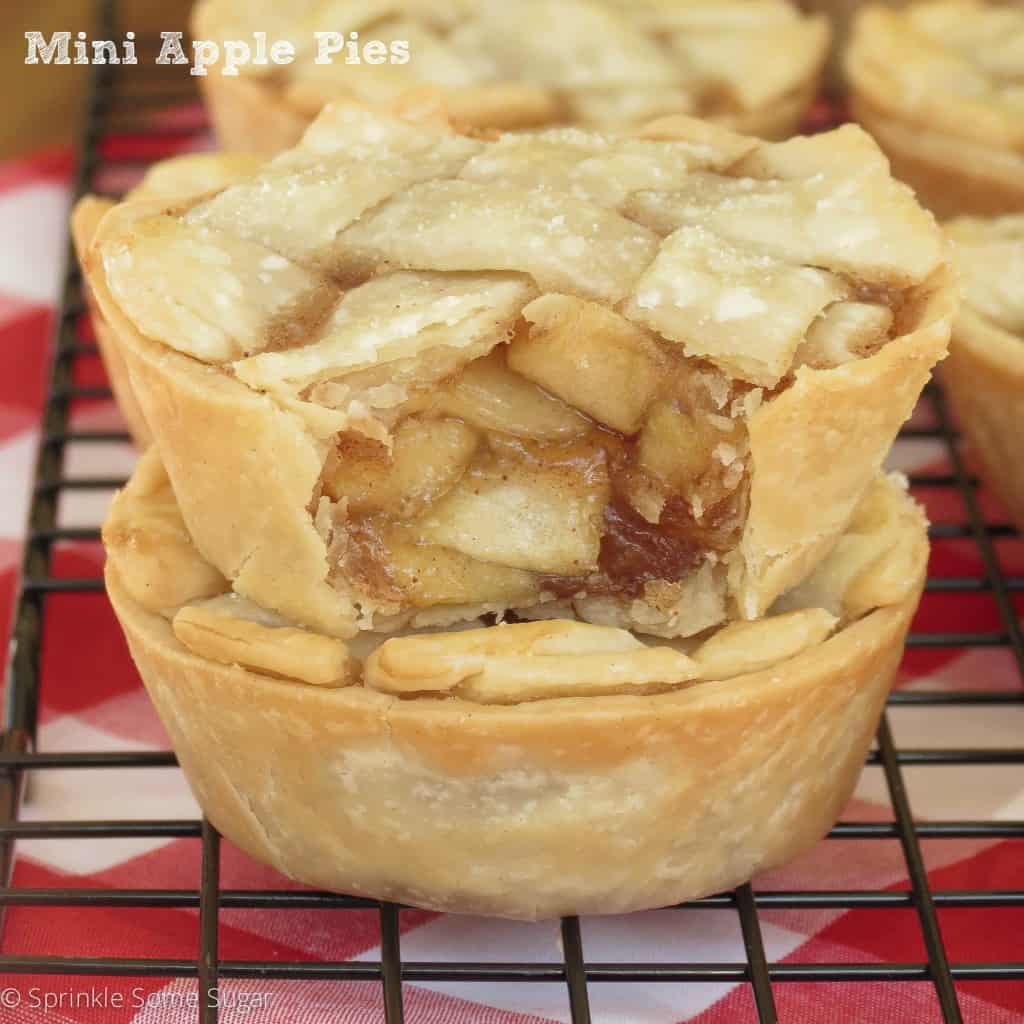 Before I start telling you about these adorable little mini apple pies, I told you in my last post how yesterday was John's 2nd birthday party and that I would share pictures. It was such a great day! The day before, I baked/cooked everything starting at 7AM and ending at 1AM - talk about EXHAUSTED! My Friday included: baking a huge cake, cupcakes, brownies, cookies, making truffles, making two HUGE trays of manicotti (from scratch like I do for almost every occasion using my Grandmother's recipe - SO good!), and buffalo wings. Oh yeah and decorating for almost three hours after everything. I literally felt like my back was about to break in half by the end of the night!! It was all worth it though, because the next day was a BREEZE and my little birthday boy was absolutely thrilled with all of the trucks and decorations, he had a blast! Well, here are the pictures! (Sorry, they're iPhone photos!)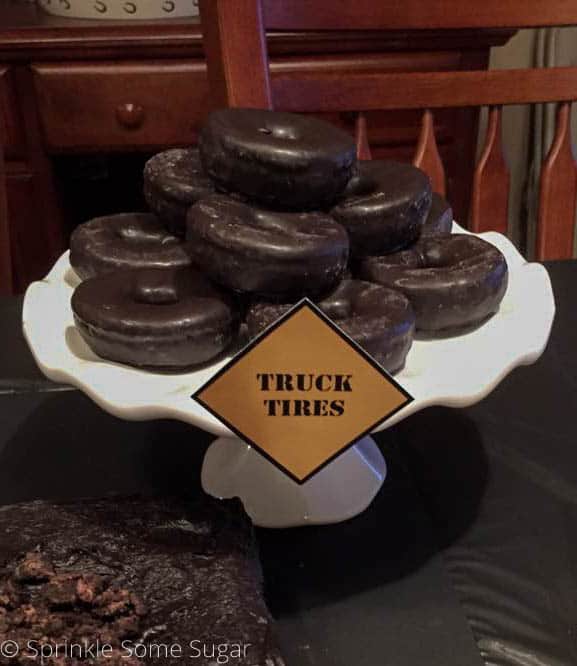 You can find recipes for all baked goods pictured above below:
Chocolate Cupcake recipe (not the frosting)
Nutello Oreo Truffle recipe: coming SOON!
Chocolate Donuts.. courtesy of Entenmanns 😉
I hope you enjoyed the pictures! If you have any questions about where I purchased the printables from and what not, comment below!
Now, onto the reason you're actually here, these mini apple pies! For ease, I used store bought pie crust but you can totally make a scratch one and use that. I am lazy. The filling is gooey, and so flavorful! You're going to love it. There are notes of cinnamon and nutmeg swirling through giving it the most delicious, cozy flavor. Is there anything more cozy than apple pie on a cold day/night? Don't think so.
First, make your apple pie filling and let it cool a bit. Then, start cutting out the first 9" pie crust dough 3 ½-4"circles with a cookie cutter or glass that's around that size. Place them in  well-greased muffin tin cavities and press them into the sides. Fill with apple pie filling. Take the second 9" pie crust dough an cut it into ½" strips. Cut the long strips into abut 2 ½" strips. Lay them out on a flat surface and arrange them  three across and three down into a lattice pattern. Press down, flattening them slightly with the palm of your hand like this: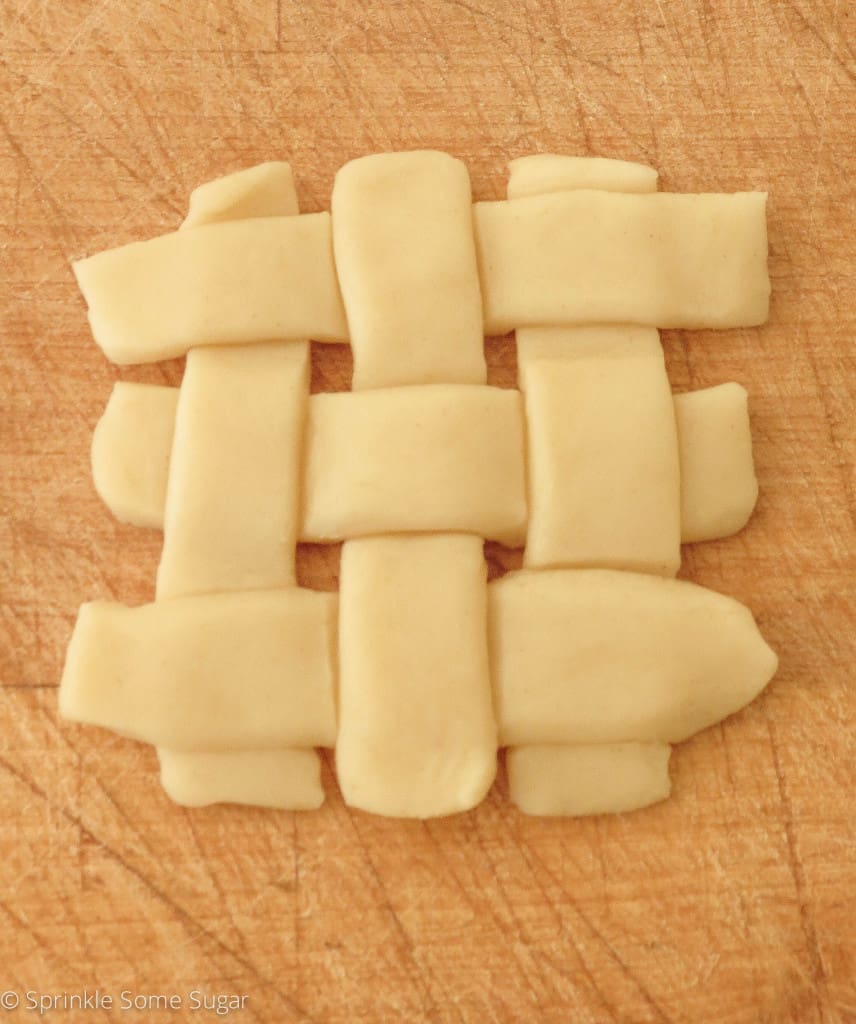 Then, lay flat on top of filled pie cups. Trim off excess and press edges down slightly. Sprinkle with some sugar, bake them up and taaaaa-da! The most adorable personal mini apple pies!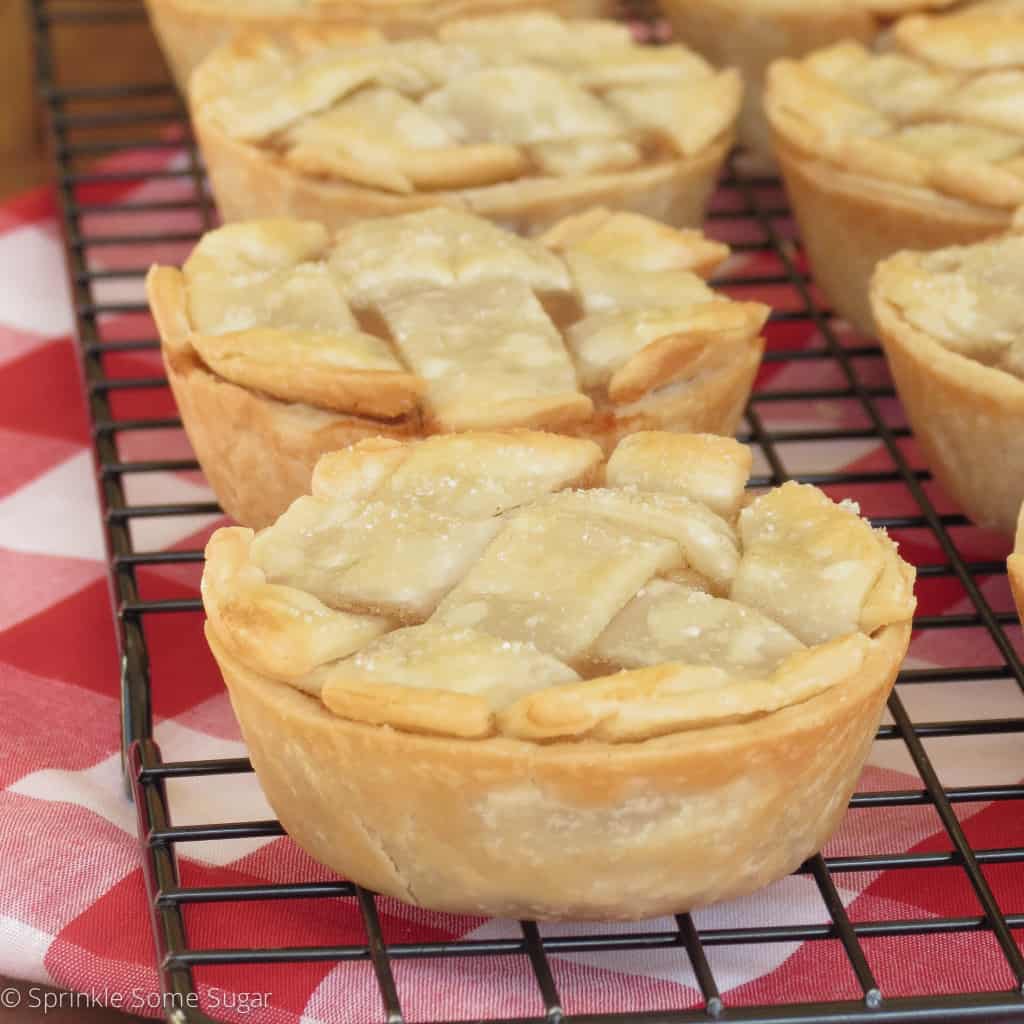 These are so cute to serve for dessert at a small gathering or even to little kids. I'm sure they would be ecstatic to have they're own tiny pie!
[pinterest]
📋 Recipe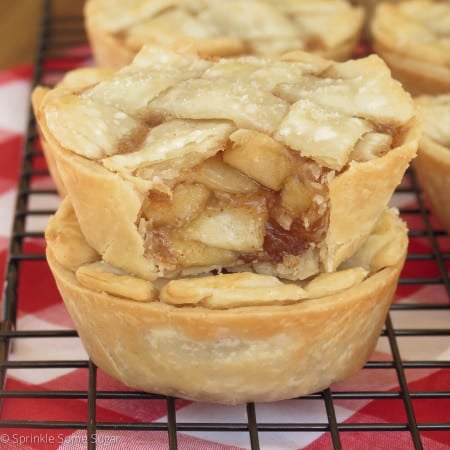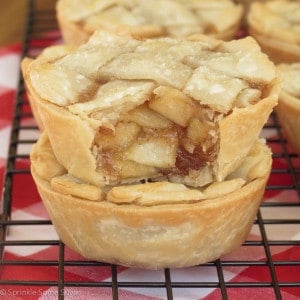 Mini Apple Pies
Ingredients
5

cups

peeled

cored and chopped small Granny Smith Apples

1

tbs

lemon juice

½

cup

brown sugar

½

cup

granulated sugar

¼

cup

cornstarch

1 ½

teaspoon

cinnamon

¼

teaspoon

nutmeg

pinch

salt

2

cups

water

1

package

2 9" store-bought pie crust

sugar for sprinkling

1

egg beaten for egg wash
Instructions
Preheat oven to 425 degrees. Grease a 12-cup muffin tin thoroughly and set aside.

Peel core and chop apples into small pieces and toss with some lemon juice. Set aside.

Combine sugars, cornstarch, cinnamon, nutmeg and salt in a small saucepan. Pour in water and stir until incorporated. On medium heat, bring mixture to a gentle boil for 3 minutes stirring frequently to prevent scorching on the bottom. Once mixture is thickened slightly, add apples and toss bringing he mixture to a gentle boil once again. Reduce the head to low and simmer for 10 minutes or until the apples are tender. Take mixture off heat and allow it to cool slightly.

While mixture is cooling, thaw pie crusts if needed and unroll one crust onto a flat surface. Start by cutting 3 ½ - 4" circles with a cookie cutter or rim of a glass/bowl. Place each disk into each muffin tin cavity, pressing them into the bottom and up the sides. Fill with apple pie filling about ⅔ to the top.

With the second pie crust, unroll and cut into ½" strips. Cut the long strips into 2 ½" smaller strips. On a flat surface, place three strips vertically and three strips horizontally, creating a lattice pattern. Press down slightly with the palm of your hand so that they stick together. Refer to the picture in the post for a visual. (You can skip this step all together and just create the lattice pattern the traditional way and place them individually on top of the mini pies. Alternately, you can even just skip the lattice all together and just cut out a bunch of circles, place them on top and cut vent holes in the tops.)

Transfer lattice crust to the muffin tins and place on top of the apple pie filling. Press down slightly around the edges and trim away the excess with a sharp knife.

Brush the tops of the apple pies with egg wash, sprinkle them with some sugar and bake for 15-17 minutes or until tops are lightly golden and cooked through.

Mini apple pies are best served the same day made but will keep for up to 2 days stored in an airtight container.
The provided nutritional information is an estimate per serving. Accuracy is not guaranteed.
Tried this recipe?
Let us know how it was! Leave a comment below & tag @sprinkle_some_sugar on instagram!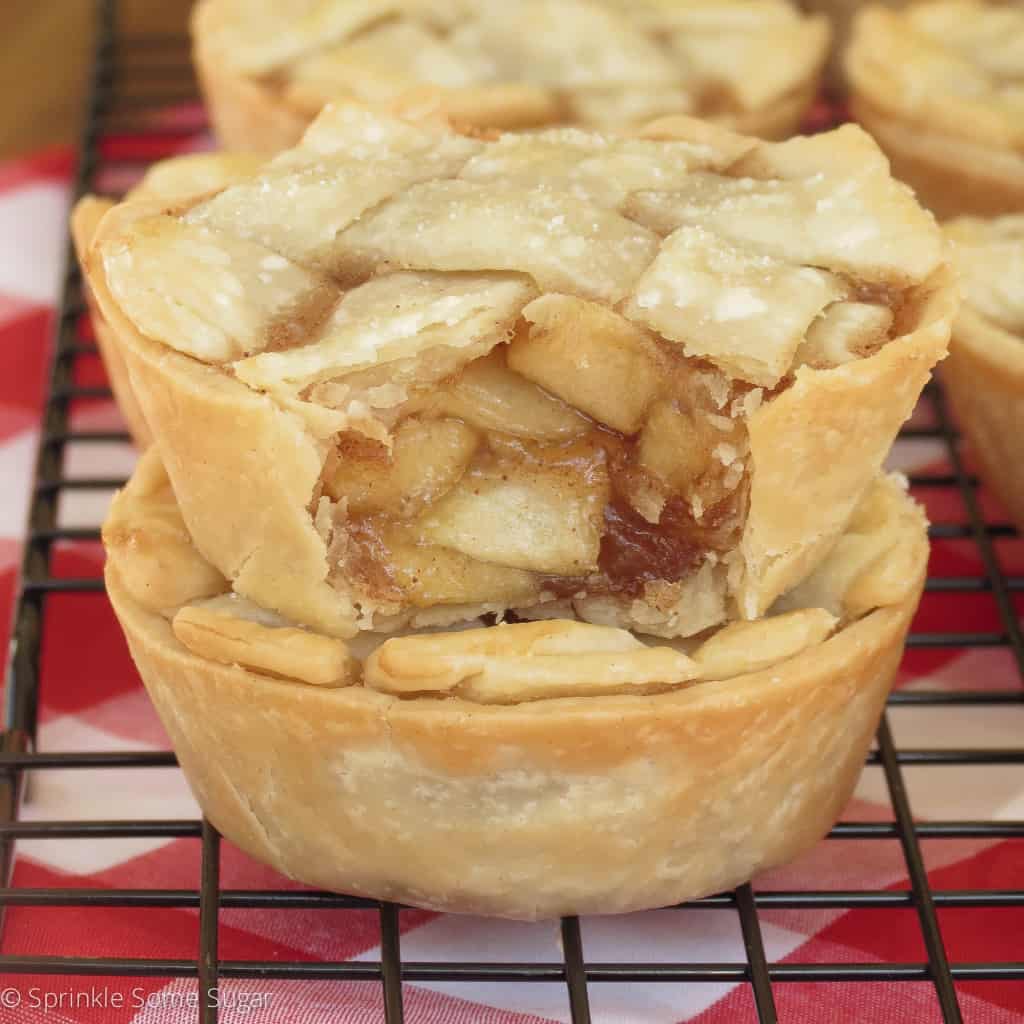 [pinterest]