An over-the-top s'mores icebox cake complete with marshmallow whipped cream, soft chocolate ganache, graham crackers and toasted marshmallows!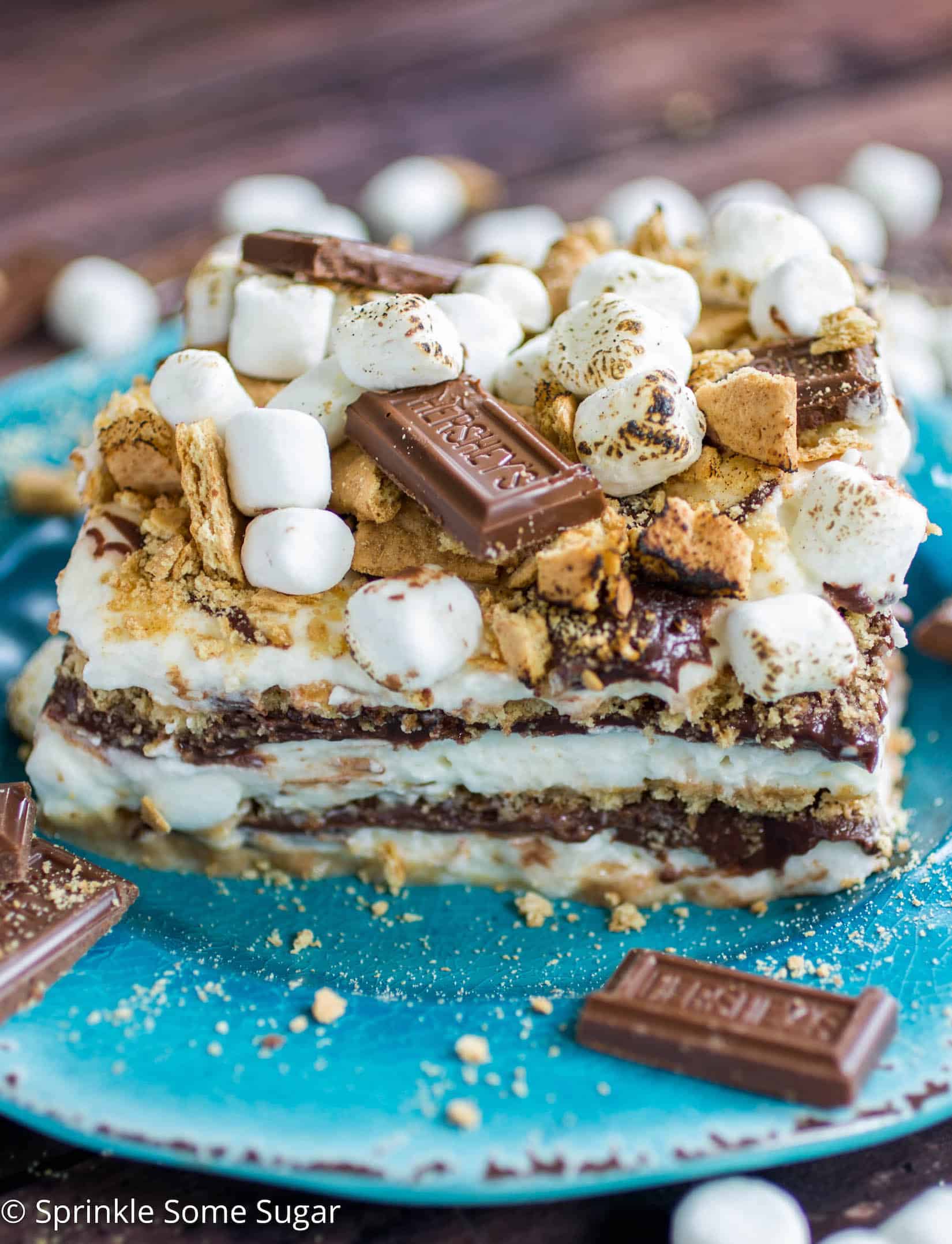 I have always loved making icebox cakes. The simplicity and flavor combinations are pretty much endless when it comes to them! I had so much coming up with this one. What's better than s'mores in the summertime? You can even make this in the cooler months to get your s'mores fix. When I was researching s'mores icebox cakes, I noticed that almost all of them use chocolate pudding for the chocolate layers. I am not usually opposed to chocolate pudding in icebox cakes, but this particular one, I wanted to get as close to an authentic s'mores flavor as I could. This only meant creating a chocolate ganache! It stays super soft, almost like a smooth frosting. It's amazing.
The other layers consisted of the usual graham crackers, but the whipped cream layers I had to figure out how I would get the marshmallow flavor in there. I decided to add marshmallow creme to the whipped cream and fold in some mini marshmallows for fun. They get nice and soft so you barely know they are there.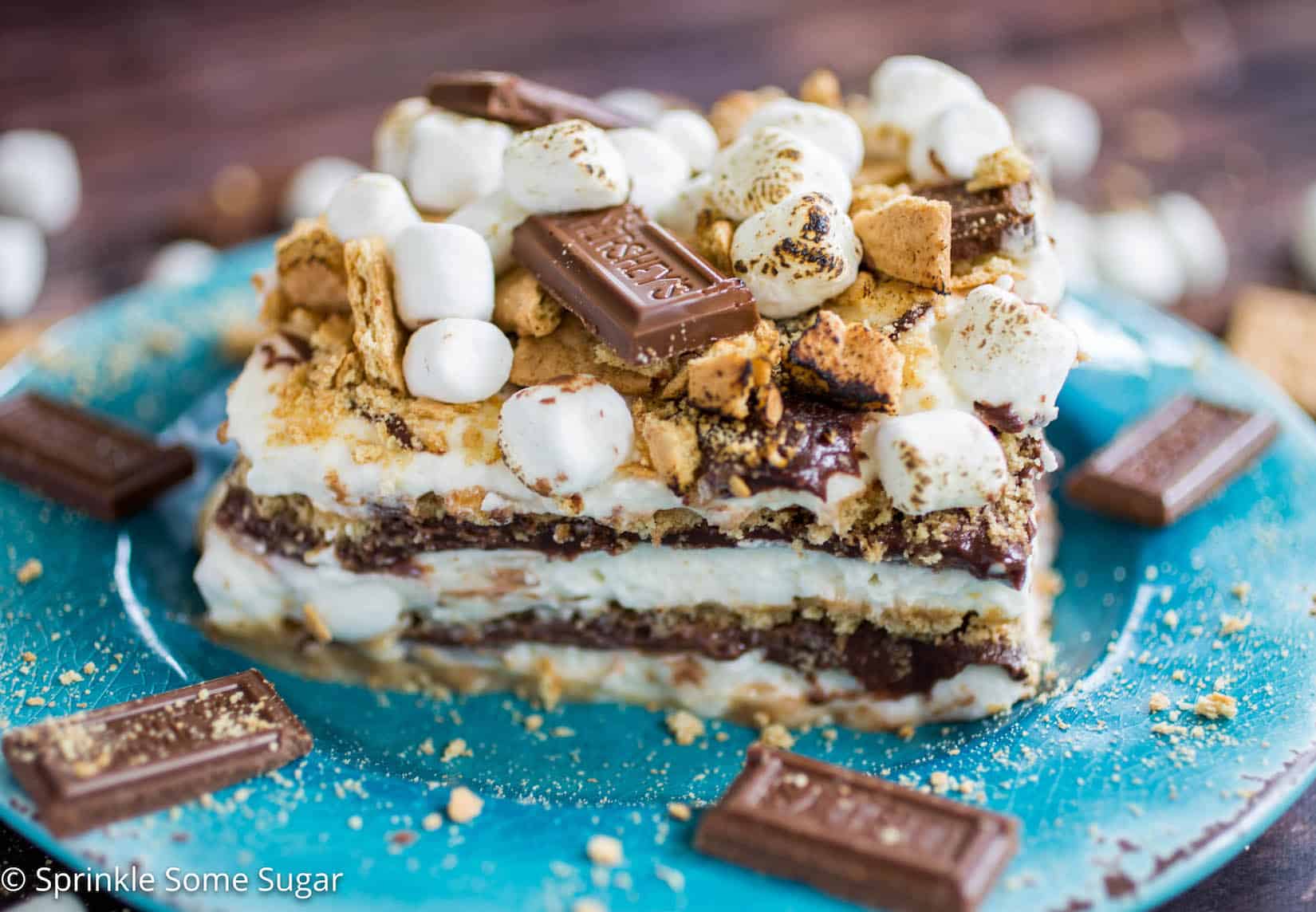 The top of the s'mores icebox cake is the most fun! I crushed up some graham crackers, broke up some Hershey bars (because ya know, what is a s'mores without Hershey's chocolate), and added some marshmallows. The marshmallows do not need to be toasted, but I wanted to go all out, so I used my kitchen torch to crisp them up a bit.
The result? An EPIC win.
S'mores Icebox Cake
Ingredients
1

box honey graham crackers
*Marshmallow Whipped Cream Layer*
4

cups

heavy cream

16

oz

marshmallow creme

3

cups

mini marshmallows
*Chocolate Layer*
3

cups

heavy cream

5

cups

chocolate chips
Instructions
Beat heavy cream until soft peaks are formed with a hand mixer or your stand mixer fitted with the whisk attachment. Beat in marshmallow creme. Fold in marshmallows by hand with a rubber spatula.

Measure out chocolate chips and place in a large bowl. In a large measuring cup, heat heavy cream in the microwave for 3 minutes. Alternatively, you can heat heavy cream on the stovetop until almost boiling. Pour hot cream over chocolate chips and give them a little shake to distribute evenly on top of them. Allow to sit for one minute, then start whisking from the center-outward until smooth. This may take some time. Allow to cool completely before assembling icebox cake

Assembly: Spread a small amount of the whipped cream layer in the bottom of a 9x13 pan. Layer with graham crackers and break apart as needed to create a single layer. Top with 1/3 of marshmallow whipped cream and then 1/2 of chocolate ganache. The ganache will be topped with graham crackers and you will start the layers again until you reach the top of the pan. The last layer will be whipped cream. If you have a bit of chocolate ganache left, you can drizzle it on top. You will end up with three layers of graham crackers, three layers of whipped cream and two layers of chocolate. Cover and chill for four hours or overnight.

Before serving, top with crushed graham crackers, pieces of Hershey's chocolate bars (or chocolate chips) and mini marshmallows. Toasting the marshmallows with a culinary torch is optional.
Not a fan of chocolate? Try my Strawberry Icebox Cake!