[pinterest]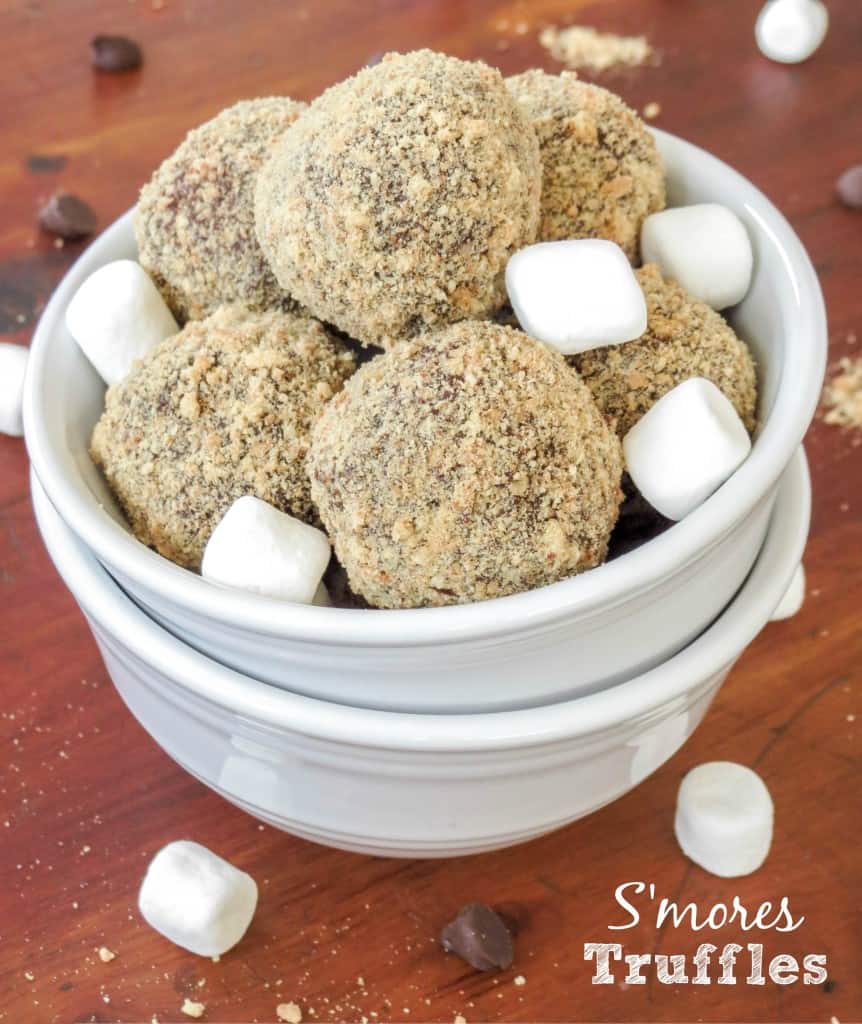 Hey guys! Before heading off to the beach for a morning walk, I want to share an incredibly easy recipe with you! I've been making this basic truffle recipe for a while now and there are so many different ways to change it up! Of course, you know I obviously had to make a s'mores version. The chocolate is so creamy, exactly what you would expect from a truffle and the marshmallows stay so soft inside, they're just perfect. I rolled them in a generous costing of graham cracker crumbs just for good measure. These are bite-sized heaven.

The truffles are so easy to whip up! You just measure out the chocolate chips in a large bowl and set them aside. Heat the cream up and pour on top of chocolate chips letting it stand for a fee minutes before whisking. Whisk until completely velvety smooth and chill until firm enough to roll. That's it! Basically, what you're making is a chocolate ganache but using a different ratio of chocolate to cream, 3:1 instead of 1:1. Once the chocolate is ready to roll scoop out a ball, stuff some marshmallows inside, roll them up and roll them around in graham cracker crumbs and call it a day. The process can't be any easier! Yeah, it's pretty messy and sticky and you will probably have to wash and dry your hands 50 times but I swear it's worth it in the end. Just trust me.
There are SO many different options by just using the basic truffle recipe if you don't want to s'mores-ify them. You could change the flavor up with some extracts, add some liqueur, stuff them with different ingredients or even roll them I'm different kinds of things like nuts, cocoa, shredded coconut or even sprinkles! The options are literally endless.
I hope you enjoy these delicious little treats!
[pinterest]
S'mores Truffles
Ingredients
1 1/2

cups

semi-sweet chocolate chips

1/2

cup

heavy cream

2-3

graham cracker sheets

crushed

24

mini marshmallows
Instructions
Measure chocolate chips in a large bowl and set aside.

In a small saucepan, heat heavy cream until very hot. Alternately, you can do this in the microwave, just be sure to watch it because it may bubble over. Pour hot cream on top of chocolate and swirl to make sure everything is fully immersed or at least wet. Let it sit for 5 minutes before touching it! Once the 5 minutes is up, whisk the mixture starting from the center outward until very smooth. Set in the refrigerator for 1-2 hours to set up. Crush graham crackers very fine and set them off to the side.

Once truffle mixture is firm enough to scoop and roll, it's time to begin the rolling process. Scoop one rounded tablespoon of truffle mixture and flatten it on the counter. Place 2 mini marshmallows in the center and pinch chocolate around it. Roll until all marshmallow is covered. This doesn't have to be absolutely perfect, just make sure no marshmallow is seen. Once you have a round shape, roll in graham cracker crumbs. As you keep rolling, the chocolate may start to melt in your hands so you may have to wash and dry them a few times. Once all truffles are stuffed and rolled, set them in the refrigerator until ready to serve.

Truffles will stay fresh for up to 5 days stored in an airtight container in the refrigerator.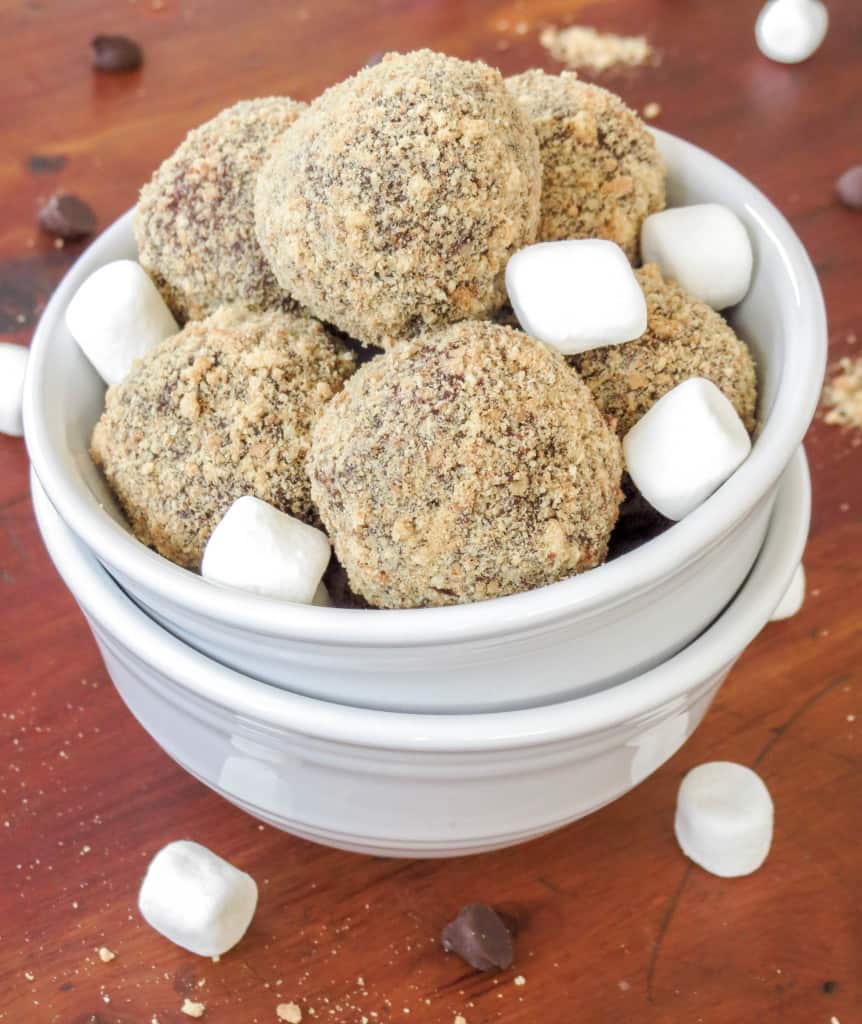 [pinterest]