A sweet graham cracker crust filled with a gooey browned butter blondie and topped with melty Hershey bars and roasty toasty marshmallows.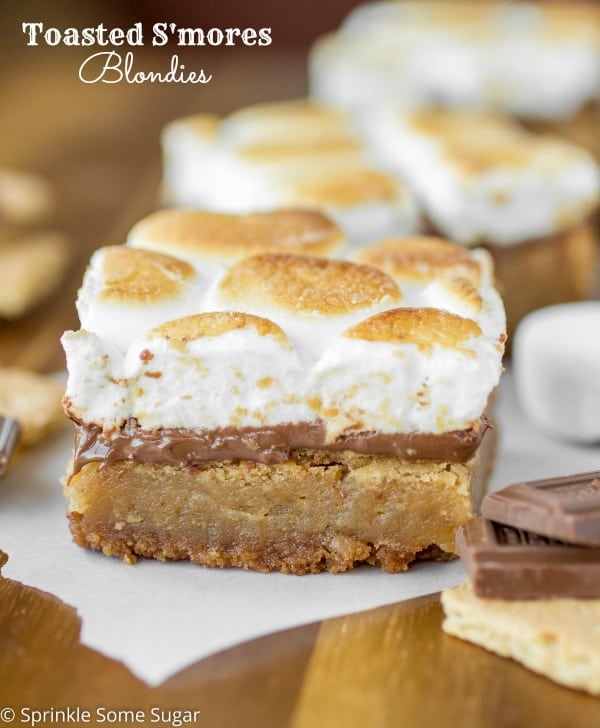 S'mores. Ohhh, my beloved S'mores. I have a billion recipes here on this little old blog with all kinds of different s'mores variations because I just can't. get. enough. I've got milkshakes, ice cream, truffles, fudge, pie, brownies.. you get the picture. They are my favorite part of Summer and are what I look forward to most. There is nothing, and I mean NOTHING better than sitting outside by a cozy fire on a cool Summer night roasting marshmallows. These Toasted S'mores Blondies are the next best thing! Or possibly even better?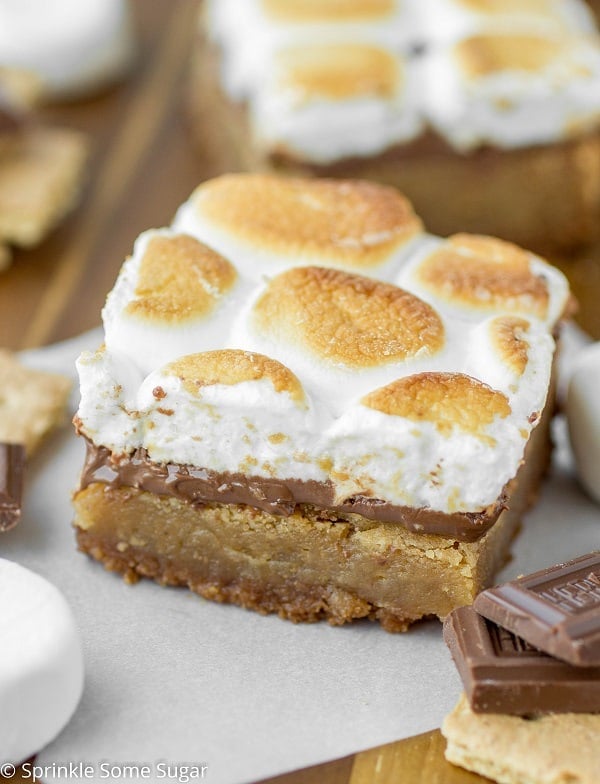 These bars start with my favorite graham cracker crust and the most perfect gooey blondies on top of that. The graham cracker crust is nice and sweet with the addition of brown sugar. The blondies are my favorite part because they contain a special ingredient. Well, not exactly a special ingredient so to say, but a basic ingredient is prepared in a special way. What is it, you ask? Browned butter! You might not think browning your butter makes that much of a difference but it totally does. To brown your butter you just melt butter on medium heat in a small saucepan and swirl it around until it turns brown. Easy peasy. Mixing up the blondies after the butter is browned is a piece of cake.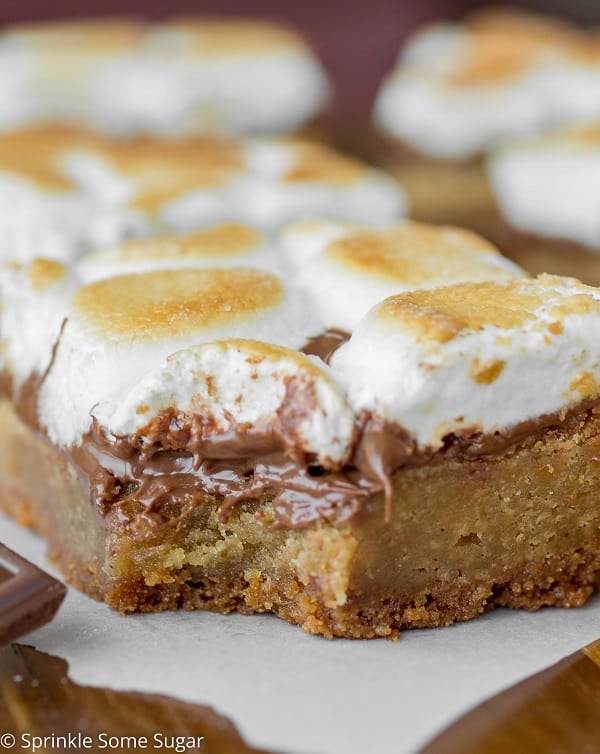 After the blondies and graham cracker crust are baked, they are taken out of the oven and immediately topped with Hershey bars and large marshmallow halves on top of that. Place the glorious pan back into your oven set to broil and toast those marshmallows up to perfection. Be sure to keep a close eye on this process because once they start to brown slightly it goes VERY fast and they'll burn in seconds. Aaaaahhhh, my favorite part: the smell of toasted marshmallows.
Be prepared for the flavor explosion that happens in your mouth. They are crazy addicting, so don't say I didn't warn ya!
[pinterest]
Toasted Smore's Blondies
Ingredients
*Graham Cracker Crust*
1 1/2

cups

graham cracker crumbs

about 9 whole sheets

2

tbs

light brown sugar

5

tbs

unsalted butter

melted
*Blondies*
1/2

cup

unsalted butter

1

cup

light brown sugar

2 1/2

tsp

vanilla

1

egg

1

cup

flour

optional pinch of salt

5

Hershey bars

20-25

large marshmallows

cut in half
Instructions
Preheat oven to 350 degrees. Line an 8x8 (pictured) or 9x9 pan with parchment paper and set aside.

Stir graham cracker crumbs, melted butter and brown sugar together until all crumbs are moistened. Press into prepared pan and set aside.

In a small saucepan turned to medium heat, place butter and brown by swirling constantly until it turns a light brown color. Be careful not to burn. Scrape up all brown bits from the bottom of the pan and pour butter into a large bowl with brown sugar and mix until smooth. Beat in egg and vanilla until combined. Stir in flour until incorporated. Pour batter into graham cracker crust and bake for 23-25 minutes or until a toothpick inserted in the center comes out with only a few moist crumbs.

When they are done baking, remove from the oven and immediately place Hershey Bars on top in a single layer. Break them apart and arrange as needed,. Top with marshmallow halves. Turn oven to broil and place bars back inside to toast marshmallows and melt chocolate. Be sure to watch them carefully because once the marshmallows start brownine the process goes extremely fast and they will burn very quickly. Remove from oven and allow bars to cool on a wire rack in the pan for at least 30 minutes. At this point, you can just eat them this way but they will be a huge mess to cut so I like to transfer the pan to the refrigerator for another 30 minutes to allow the chocolate to set up again. Cut them into bars and serve.

Toasted S'mores Bars will stay fresh for up to two days stored in an airtight container at room temperature.
[pinterest]