This Glazed Lemon Bundt Cake is the softest, lemon-packed cake you'll ever eat! While this cake is a delicious treat all year-round, it's the perfect citrusy dessert to enjoy during the spring and summer months.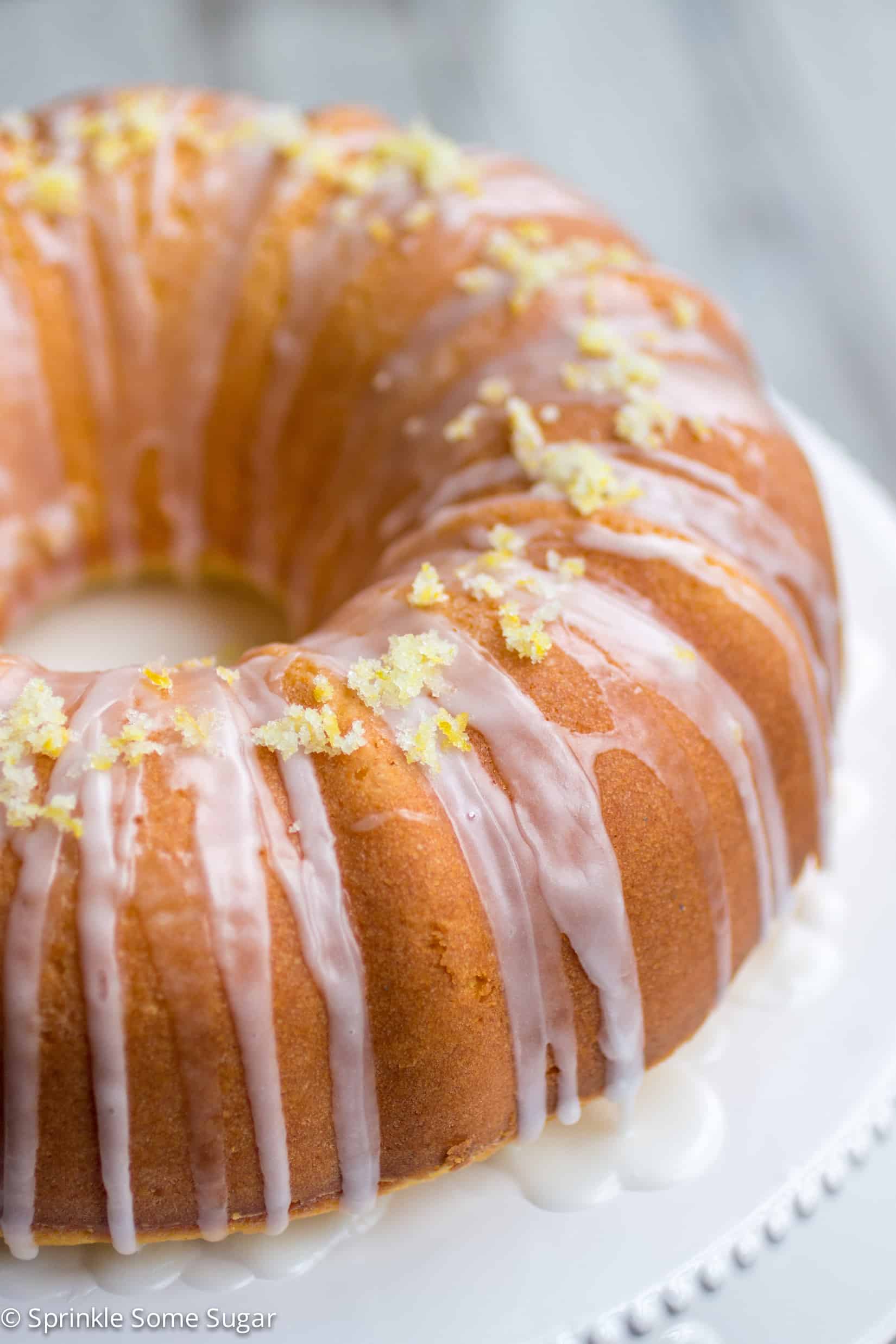 There's just something about the tart and sweet combination of lemon desserts that's just so delicious and this lemon bundt cake is no exception. The texture is sort of dense - think: pound cake - but it is so ridiculously soft, moist and packed with lemony flavor. This cake is delicious on its own but the lemon glaze on top really brings this dessert over the top and really packs a big punch of lemony flavor. The lemon sugar sprinkled on top makes it look even prettier while adding an extra dose of lemon.
Why you'll love this recipe
You get triple the lemon in this outrageously delicious cake! There is lemon flavor in the cake, in the glaze AND lemon sugar is sprinkled on top.
I have served this to guests who claim they do not like lemon desserts and in return receive absolute rave reviews because they can't believe how delicious this lemon bundt cake is.
Ingredients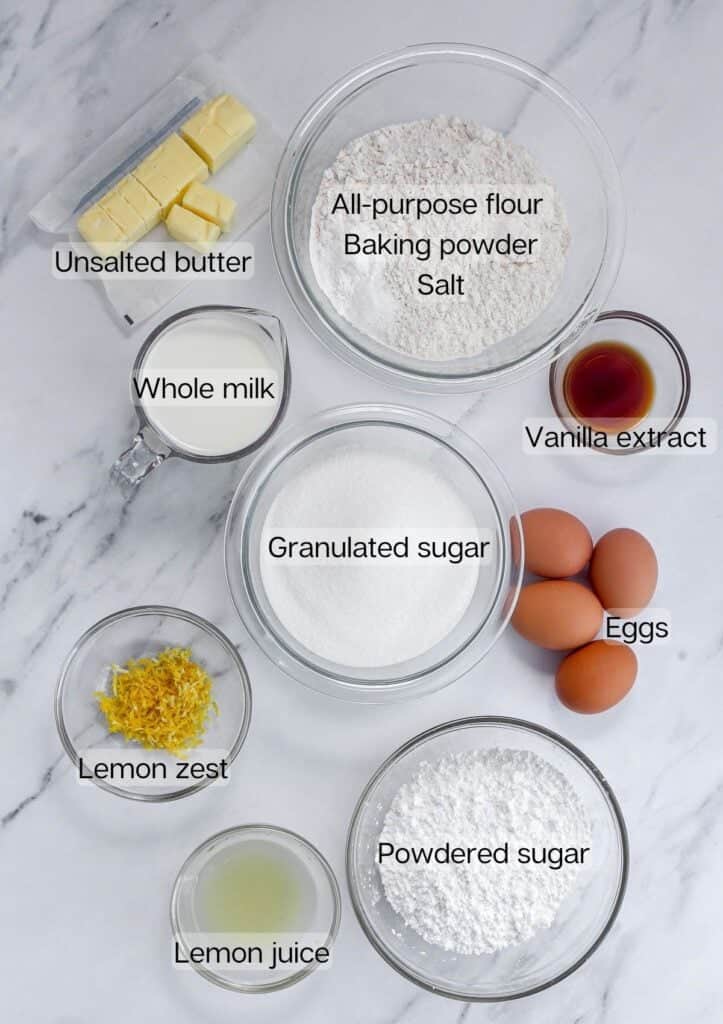 Flour: All-Purpose flour is used in this recipe.
Baking Powder: Makes the cake rise.
Salt: For flavor.
Eggs: To bind the ingredients together.
Sugar: Granulated sugar is used in the cake and lemon sugar recipes.
Vanilla extract: For flavor.
Lemon juice: I use the juice in the cake and glaze for a strong and fresh lemon flavor.

Choose lemons that have a good squeeze to them . This = more juice!

Lemon zest: Used in the cake and lemon sugar topping to elevate the lemon flavor.
Milk: Whole milk is used in this recipe. You can substitute 2%, if needed.
Butter: Unsalted butter is used in this recipe to control sodium.
Powdered sugar: Used to sweeten the glaze.
See recipe card below for a full list of ingredients and measurements.
Substitutions & Variations
There are so many delicious ways to change up this cake to make it your own!
Substitute lemons with limes for a lime bundt cake.
For a lemon poppy seed cake, add 2 tbs of poppy seeds to the batter.
For a lemon blueberry bundt cake, fold berries into the batter just before baking. You can also add raspberries for a lemon raspberry cake or even chopped strawberries for a lemon strawberry cake. Such yummy alternatives!!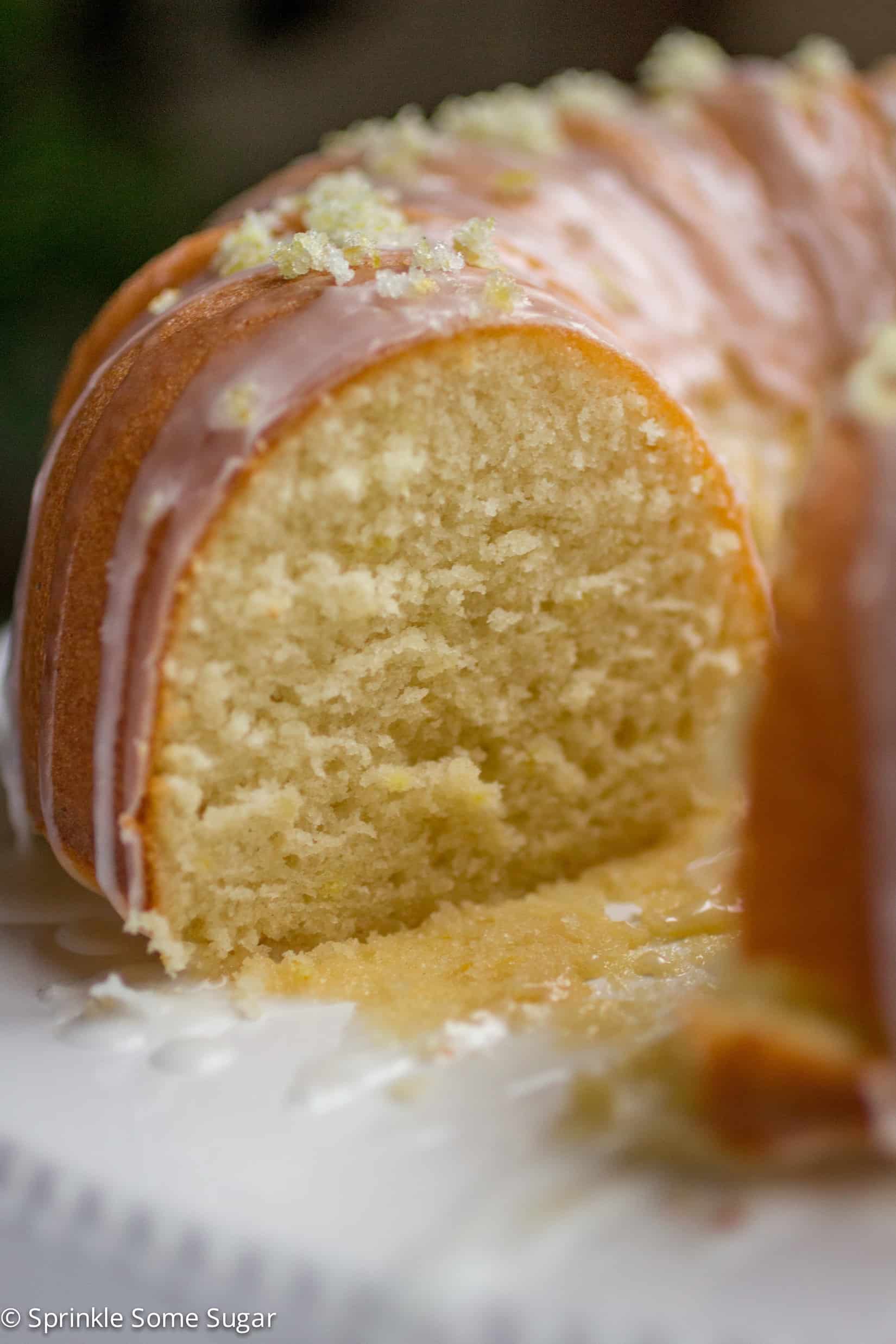 How to make Glazed Lemon Bundt Cake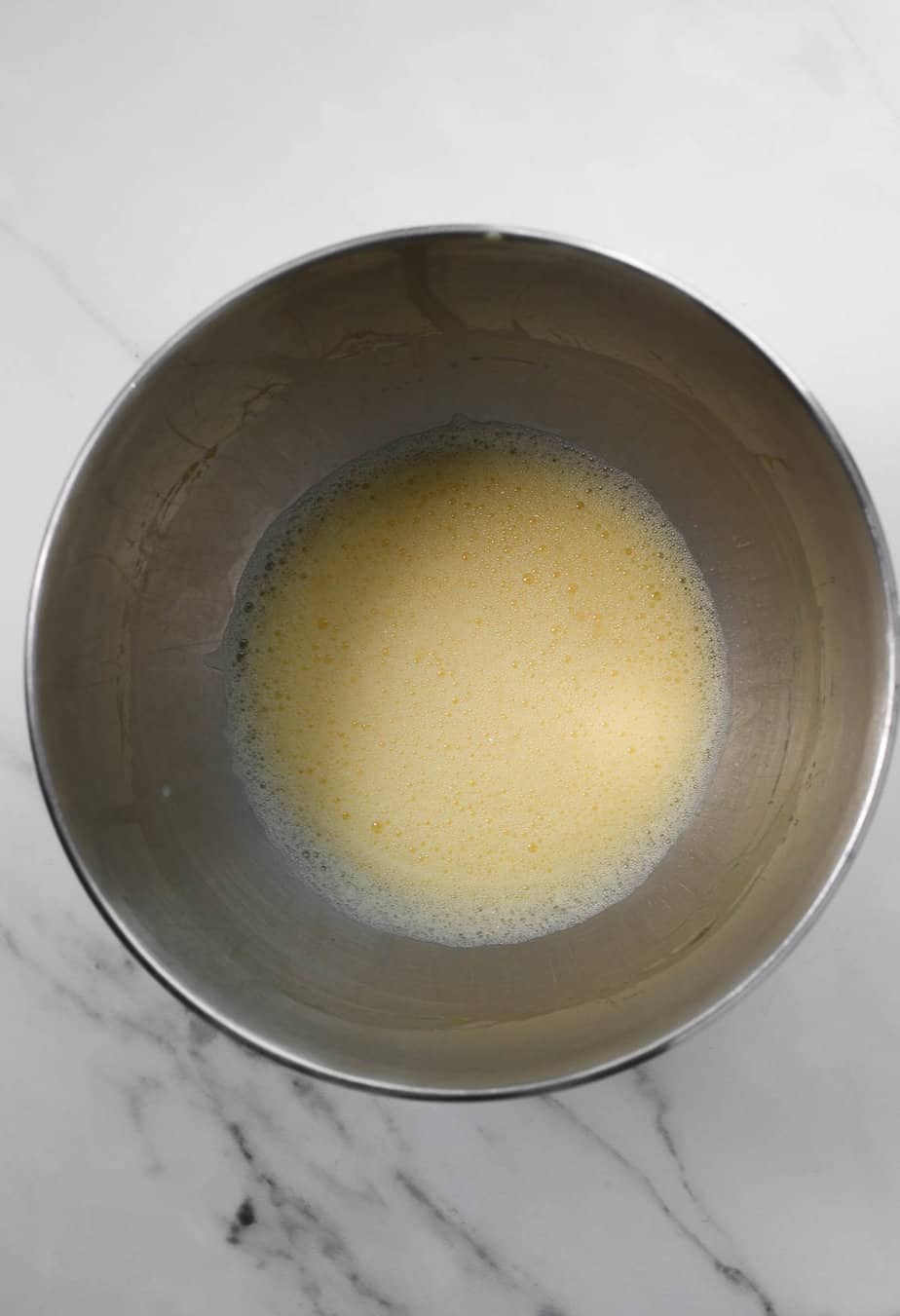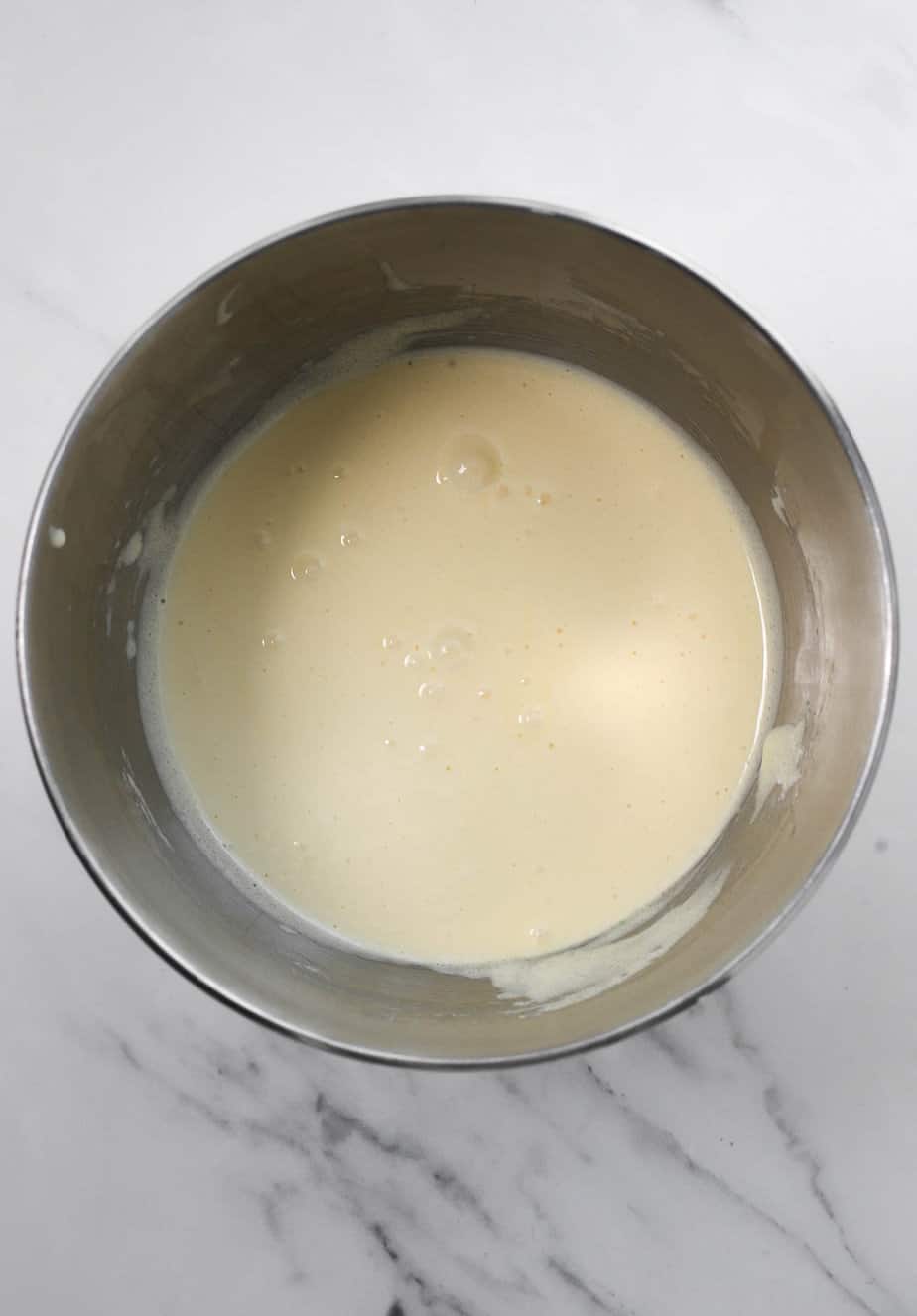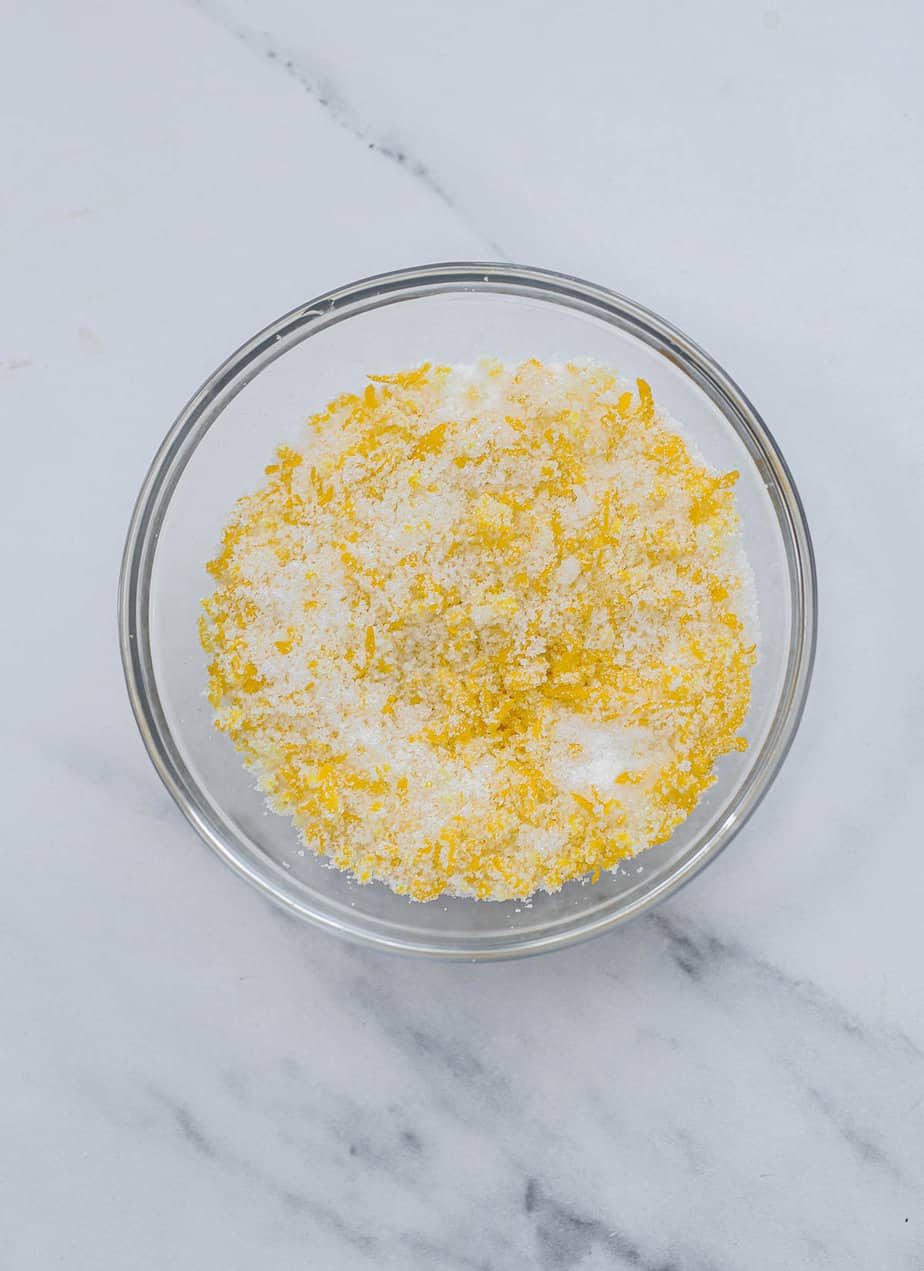 Make the glaze: Whisk powdered sugar and lemon juice, using more or less lemon juice as needed to get a thick consistency. (I like to keep mine slightly thick so it won't thin out too much when I serve it over warm cake.)
Drizzle glaze over warm cake. Sprinkle lemon sugar on top.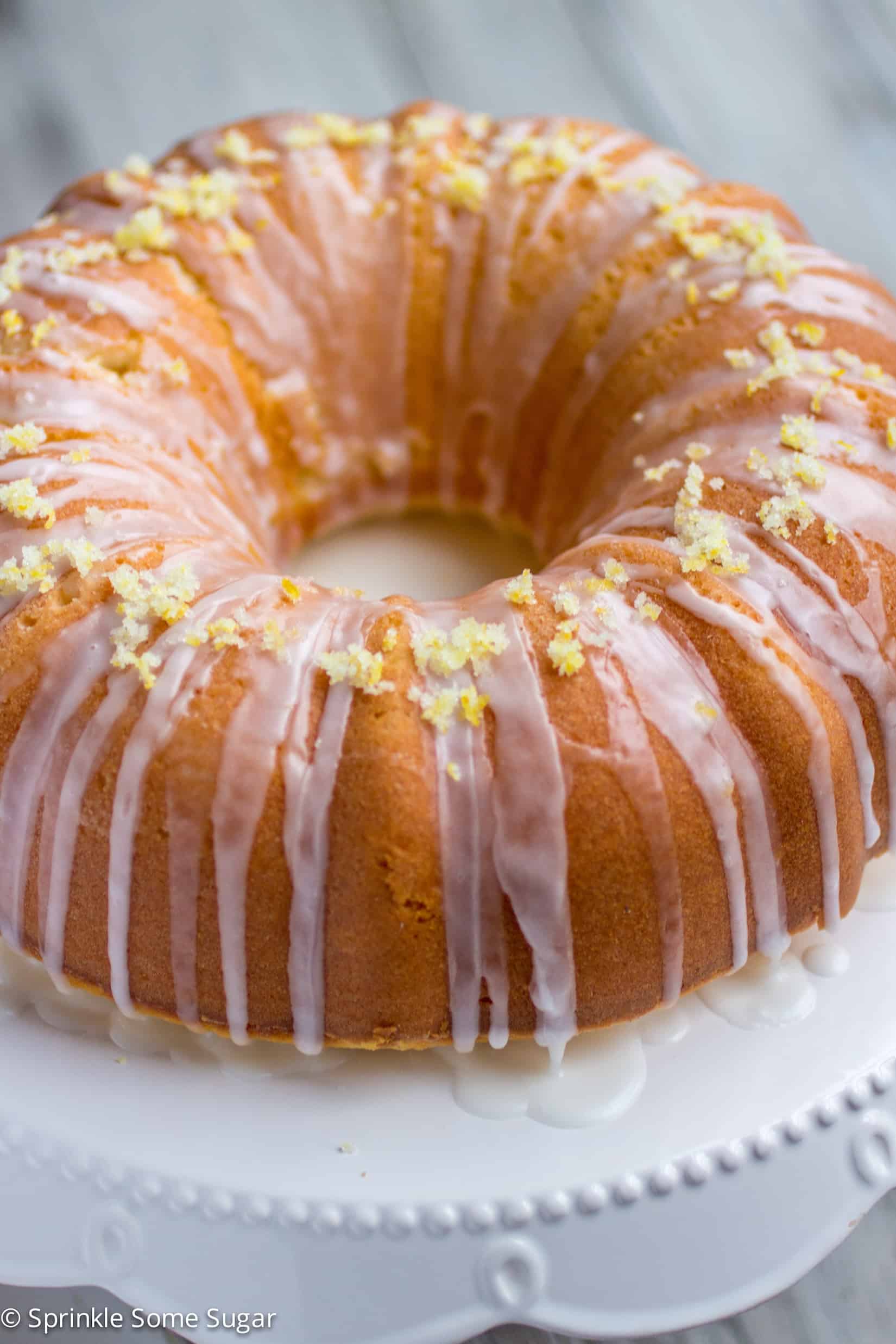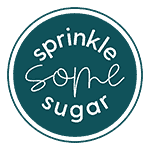 Pro Baking Tips
How to zest a lemon: Over a clean surface or cutting board, hold the grater in one hand and the lemon in the other. A microplane grater works best but you can also use a box grater - just be sure to use the smallest holes so you get the lemon zest very fine. Push the lemon down the grater in one direction, removing only the the yellow outer part of the fruit, being careful to avoid the bitter pith.
Leaving the lemon zest in with the sugar is totally optional, but sometimes I push the sugar through a fine mesh strainer to separate the two, depending who I am serving. It's all about personal preference.
Bundt pan size: You can use any 10-12-cup bundt pan.
Grease the pan: You want to be extremely generous with greasing a bundt pan - they are notorious for sticking!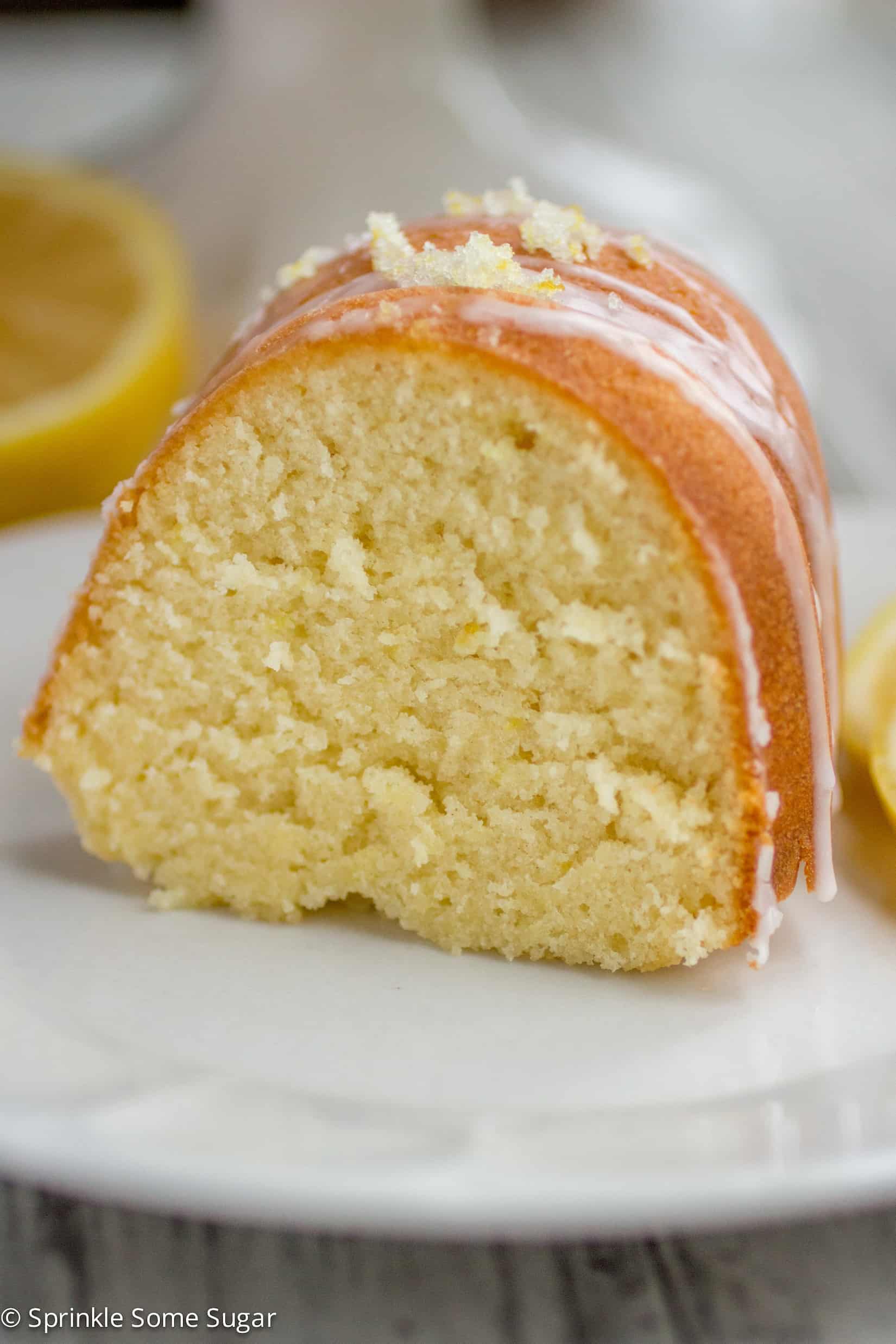 If you love lemon, you absolutely need to make this.. like now.
Storage
Room temperature
Store cake at room temperature in an airtight container for up to 3 days.
Freezing
Cover lemon bundt cake without glaze very well in a layer of plastic wrap and then a layer of foil. Place wrapped cake in a freezer-safe bag and freeze for up to 3 months. Thaw in refrigerator overnight and allow to come to room temperature before serving. Drizzle with glaze and top with lemon sugar just before serving.
Recipe FAQs
What is the difference between a bundt cake and a regular cake?
The biggest difference is the shape of the pan. A regular 8-inch round cake pan holds up to 6 cups of batter and a standard bundt cake pan holds 10-12 cups of batter.
What is the secret to get a bundt cake out of the pan?
Grease your pan HEAVILY making sure to get all nooks and crannies. After greasing, flour your pan lightly and shake out excess. This method will ensure no sticking.
More bundt cake recipes you'll love:
Did you make this recipe?
Please leave a ⭐️ review below and tag @sprinkle_some_sugar on Instagram!
📋 Recipe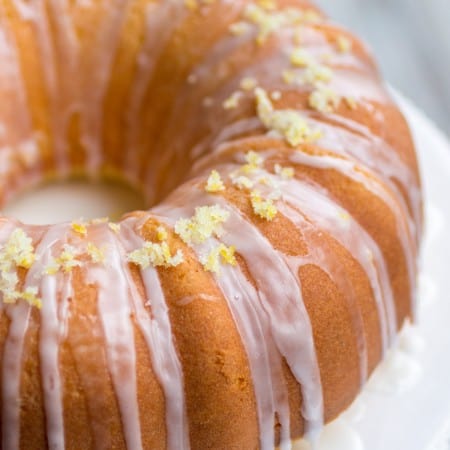 Glazed Lemon Bundt Cake
The softest, lemon-packed cake on the face of the earth. If you are a lemon lover, this Super Lemon Bundt Cake will be your new favorite!
Ingredients
Lemon Cake
2 ¼

cups

all-purpose flour

2 ¼

teaspoon

baking powder

½

teaspoon

salt

4

eggs

2

cups

sugar

1

teaspoon

vanilla extract

2

tbs

lemon zest

2

tbs

+ 2 teaspoon lemon juice

1 ¼

cups

whole milk

10

tablespoons

unsalted butter

cubed
Lemon Glaze
1 ½

cups

powdered sugar

3-5

tbs

lemon juice
Lemon Sugar Topping
1

tbs

lemon zest

1

tbs

granulated sugar
Instructions
Preheat oven to 350 degrees. Grease a bundt pan very well, making sure to really get into all crevices. Then, lightly flour the pan. Set aside.

Lightly whisk flour, baking powder and salt in a small bowl and set aside. In the bowl of your stand mixer (if you're using one) fitted with the paddle attachment, beat eggs on low until they are thickened and very pale yellow in color.

Turn mixer on low and slowly add sugar to running mixer and beat on medium-high speed until light and fluffy. Stir in vanilla, lemon juice and lemon zest. Slowly pour in dry ingredients on low speed until combined.

In a small saucepan, heat milk until very hot and butter is just melted. Do not boil and whisk the mixture to help the butter along. Pour into batter and mix until smooth. Batter will be very thin.

Pour into prepared baking pan and bake for 40-50 minutes or until a toothpick inserted into the center comes out with a few moist crumbs.

Once done, remove cake from oven and allow to cool for 5 minutes in pan. Release the sides of the cake with a butter knife to ensure it isn't going to stick. Turn cake onto a large round platter or cake stand. (If using a 9x13 pan, do not remove cake, just place entire pan onto wire rack so underneath the pan can cool also.) Allow cake to finish cooling until warm to the touch.

For the lemon sugar, thoroughly mix the lemon zest and sugar together and let it sit for 5 minutes. If you don't want the lemon zest on top of the cake, push the sugar through a fine mesh strainer, separating the two and discard the zest. If you don't mind the zest on top of your cake (it will give it a nice pop of color!), then just set the mixture aside.

For the lemon glaze, whisk powdered sugar and lemon juice, using more or less lemon juice as needed to get desired consistency. (I like to keep mine slightly thick so it won't thin out too much when I serve it over warm cake.) Once cake is cooled down slightly, drizzle glaze over warm cake. Alternately, you can drizzle the glaze over each individual piece being served. Sprinkle lemon sugar on top.

Cake will stay soft and moist for 3-5 days stored in an airtight container.
Notes
Freezing Instructions: Wrap baked and cooled cake (without glaze) in a few layers of plastic wrap and then wrap in a layer of aluminum foil. You can freeze for up to 3 months. Thaw in refrigerator. Glaze once thawed.
The provided nutritional information is an estimate per serving. Accuracy is not guaranteed.
Tried this recipe?
Let us know how it was! Leave a comment below & tag @sprinkle_some_sugar on instagram!