This creamy no-bake caramel cheesecake is nestled on top of a baked brownie and smothered in lots of chocolate, caramel sauce and chopped pecans.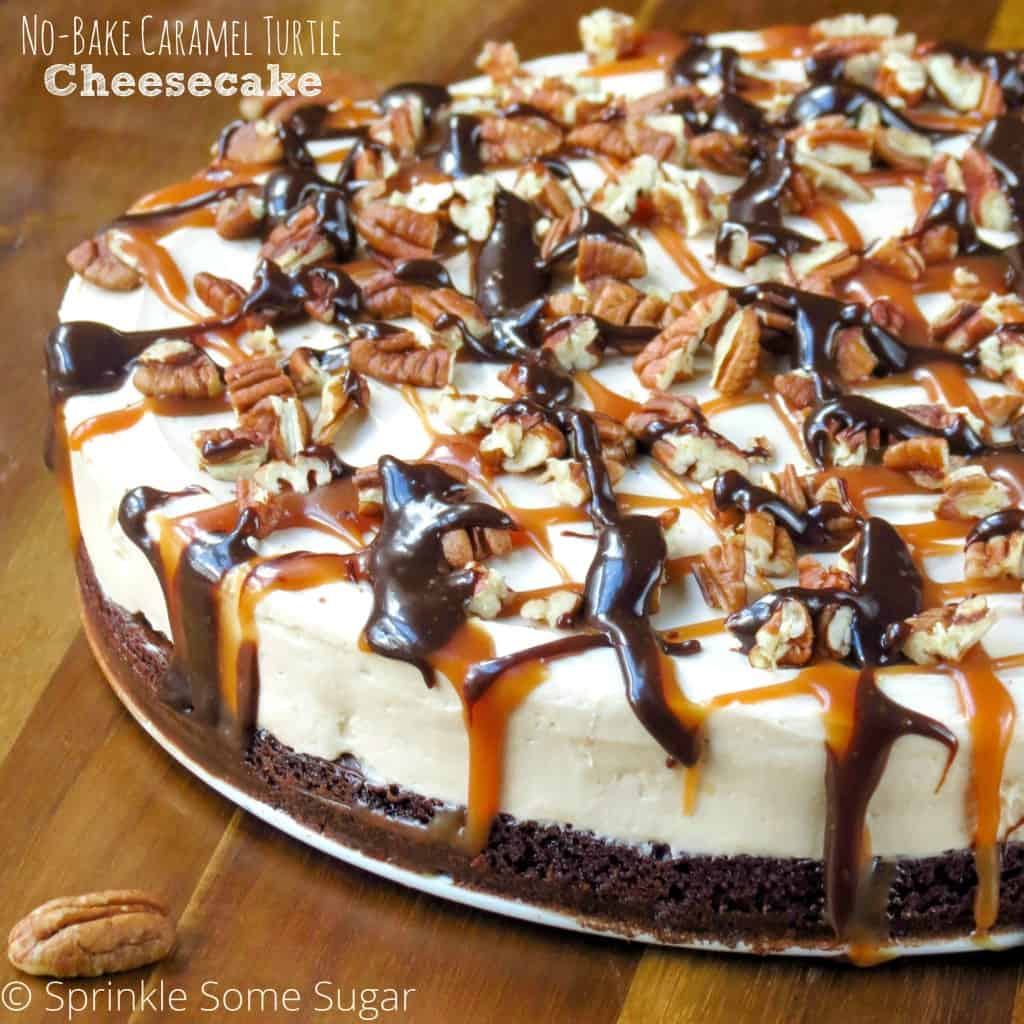 Before I get started on this glorious cheesecake, story time. So, this weekend we had Mike's sister & fiance's housewarming party. We were all ready to go and as I go to put on John's shirt he flung his arms up in the air and poked me RIGHT in the eyeball. I thought I was fine even though I was in so much pain. I was like, eh, I'll just go and hopefully it will be better in an hour or so. Three hours went by and I was in even more pain than before and could barely open my eye! Everyone urged me to go to the ER so off Mike and I went. Turns out I have a scratched cornea! So freakin painful! Luckily, by the next day (Sunday) it was soooo much better, just pretty sore and blurry but I could open it. Thank the Lord! And now today it's pretty much better, just still pretty blurry. Such a nightmare, my little guy is lucky he's so cute!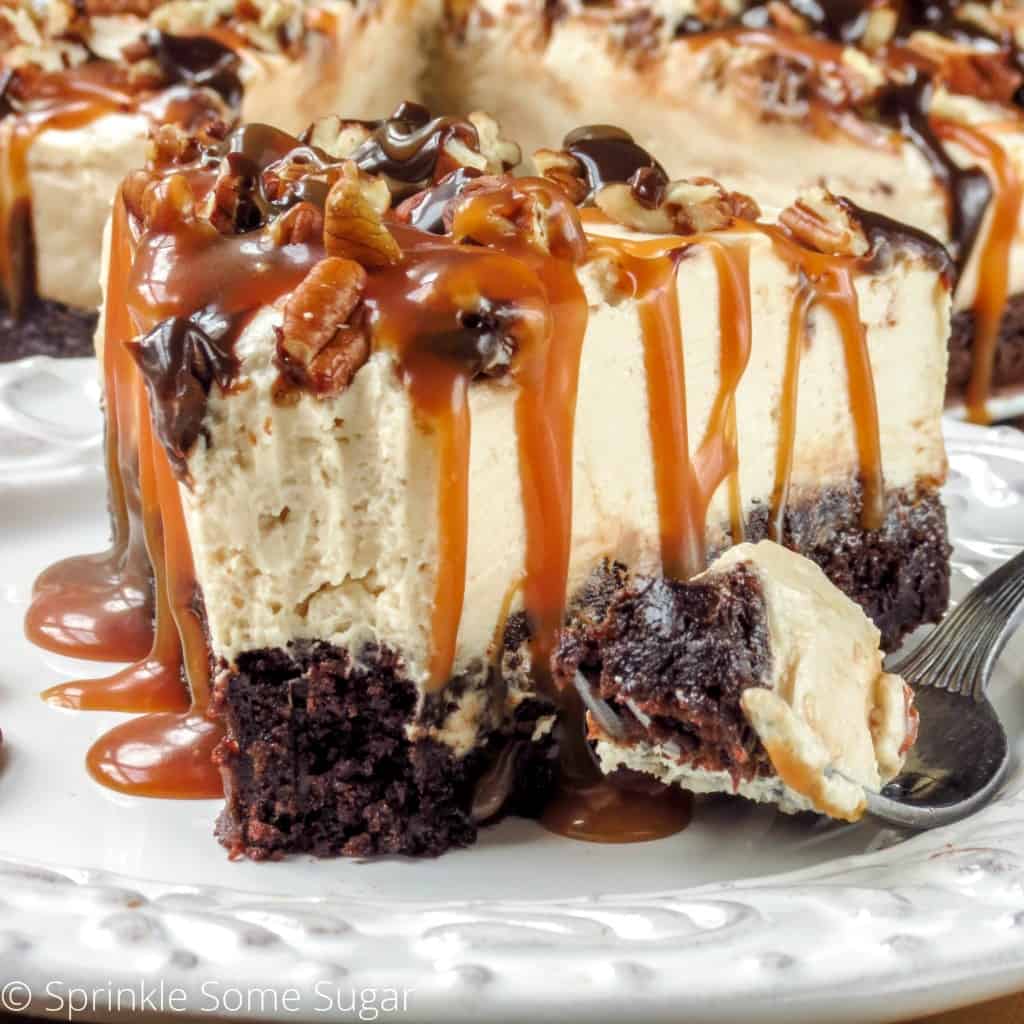 Anyways, let's talk cheesecake. Creamy, delicious, incredibly decadent, rich caramel cheesecake with a brownie bottom. And it's NO-BAKE! Seriously, you guys.. How have I never made a no-bake cheesecake before? I always thought it would just come out not even tasting like cheesecake or with an odd texture or something but I was completely wrong! This has changed my cheesecake making for LIFE. I'll never spend a million hours making a regular cheesecake again because there is just no need to. This cheesecake comes out extremely creamy and has so much amazing flavor thanks to the homemade caramel sauce baked inside. This is my new favorite cheesecake especially because it is ridiculously easy!
The texture of a no-bake cheesecake is slightly softer I guess you can say than a traditional cheesecake. It's just not as firm. I guarantee your guests would NEVER know that this cheesecake is no-bake! It's so delicious, it's impossible to tell the difference!
For the brownie I just used a box mix. You can use whatever you'd like, homemade, box, whatever. Once the brownie is baked up and cooled completely, just beat all of the cheesecake ingredients together, spread them on top of the brownie in an even layer and you're DONE!! Garnish with whatever you'd like once the cheesecake is set. If you're making this "turtle" version, you'll need chopped pecans, caramel and hot fudge topping. I love making caramel from scratch, I'll have the recipe posted below.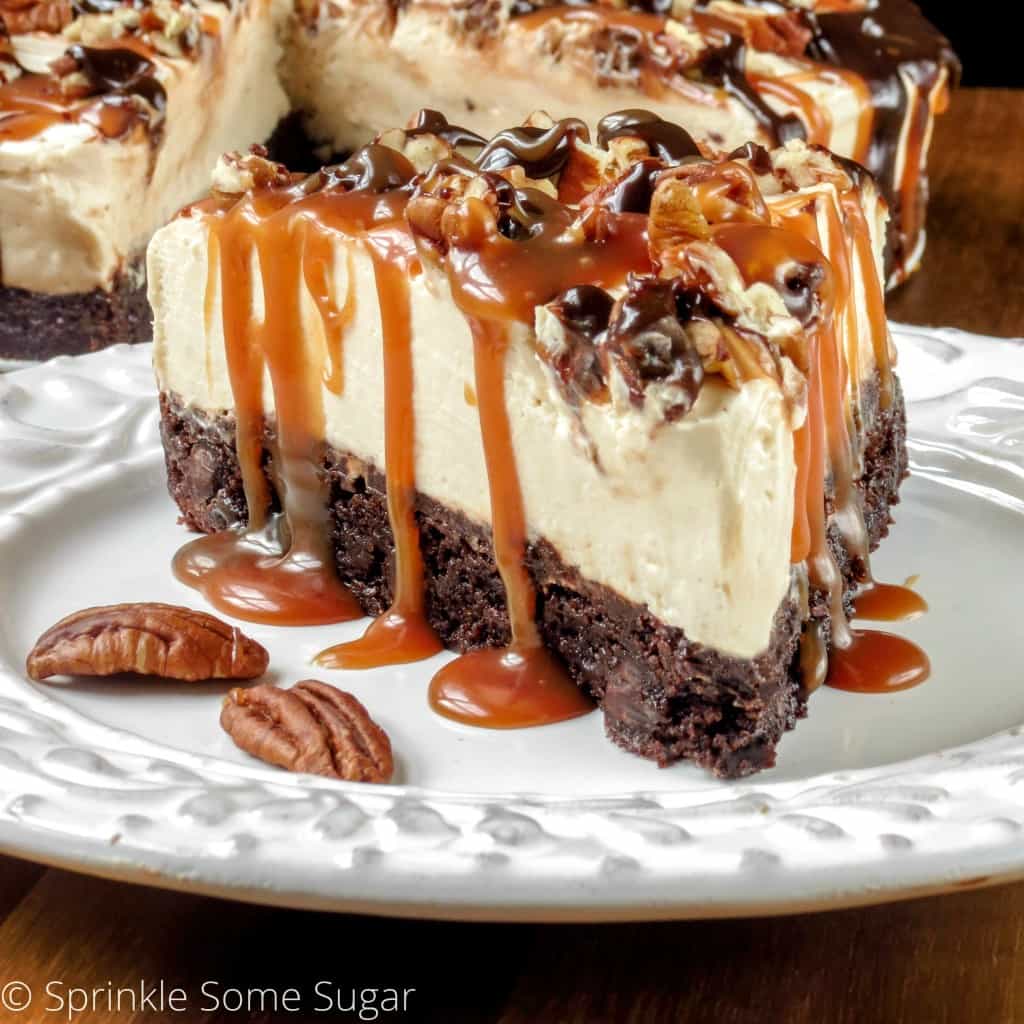 If you are skeptical about no-bake cheesecakes, I URGE you to give this no-bake caramel cheesecake a try! You will look at cheesecake making in a completely different light. Also, if you are scared of making a traditional cheesecake, this is the perfect way for you to start!
(Let's count how many times I said "cheesecake" in this post…)
[pinterest]
No-Bake Brownie Bottom Turtle Cheesecake
Ingredients
*Brownie Layer*
1

box brownie mix + ingredients on the box

I love Ghiardelli Triple Fudge! or homemade
*Caramel Sauce*
1

cup

granulated sugar

1/4

cup

water

3/4

cup

heavy cream

3

tbs

unsalted butter

1

tsp

vanilla

pinch

salt
*Caramel Cheesecake*
16

oz

cream cheese

softened

1/2

cup

granulated sugar

1/2

cup

brown sugar

3/4

cup

caramel sauce

1/2

tsp

cinnamon

pinch

nutmeg

4

oz

cool whip
*Toppings:*
chopped pecans

caramel sauce

hot fudge sauce
Instructions
Grease a 9" springform pan. Combine all brownie ingredients until smooth, pour into prepared pan and bake according to manufacturer's instructions on box or recipe you are using.

While brownie is baking, prepare caramel sauce. In a small pot, heat sugar with water on medium-high heat whisking and swirling the pot until sugar is all dissolved. Once dissolved, keep swirling the pan often keeping an eye on the color until it turns a slightly dark amber color (the darker the color, the bolder the caramel flavor. Do not whisk! Only swirl the pot using the handle. You do not want to disturb the caramelization process too much or it will seize up and you will need to start over. Once it's the color you desire, slowly and carefully pour in the cream. The mixture will bubble up violently for a few seconds and once it settles down, whisk until smooth. Remove from heat and whisk in butter, vanilla and salt. Set caramel to the side to allow it to cool completely and thicken up slightly. Once brownie is done, remove outer ring of pan and allow brownie to cool completely also.

In a large bowl, combine cream cheese and both sugars until smooth. Stir in the 3/4 cup of caramel sauce and spices until combined. Fold in cool whip and mix until everything is incorporated and distributed completely. Place the outer ring to the springform pan back on. Top the baked brownie with the cheesecake mixture and spread into an even layer. Chill in refrigerator for 3-4 hours.

Before serving, garnish cheesecake with (leftover) caramel sauce, hot fudge sauce and chopped pecans.

This No-Bake Caramel Turtle Cheesecake will stay creamy and fresh for up to 6 days stored in an airtight container in the refrigerator.
No-bake cheesecake recipe slightly adapted from Life, Love & Sugar.
[pinterest]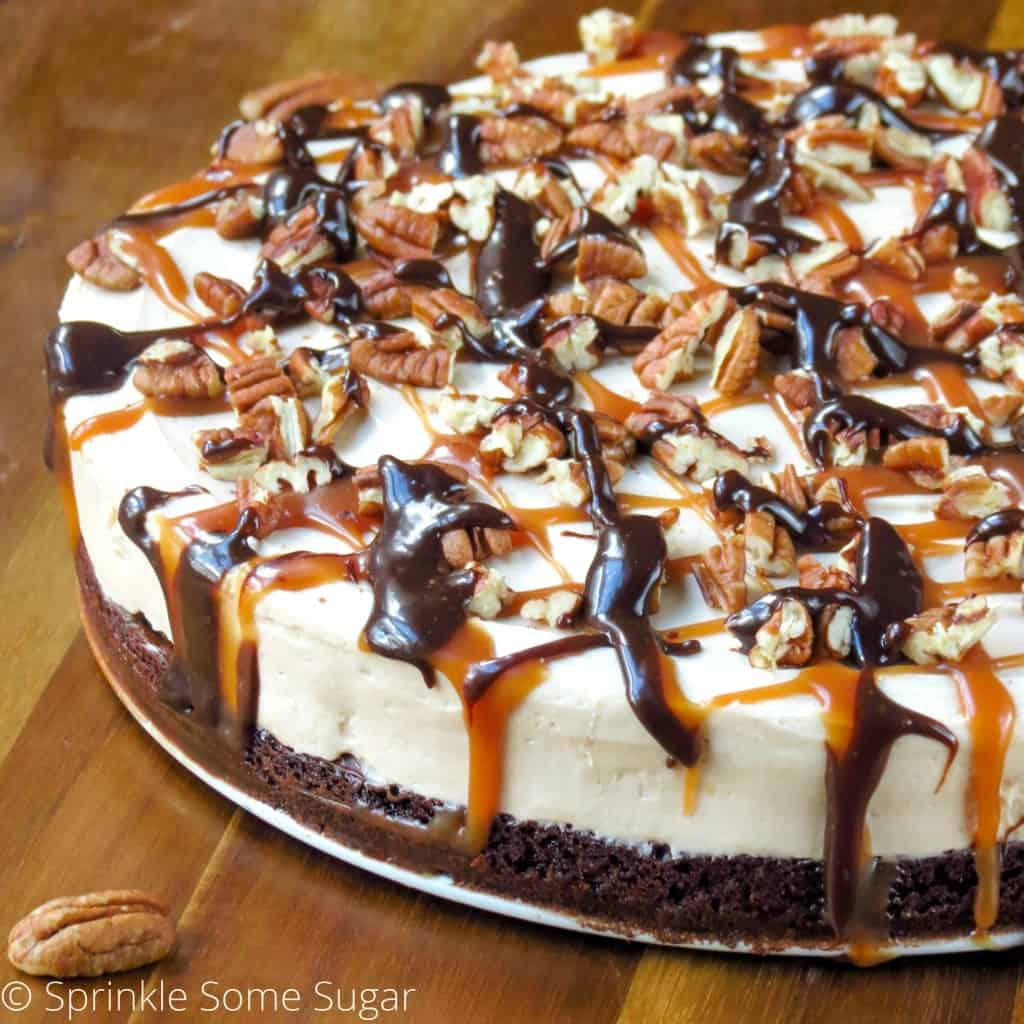 [pinterest]