A delicious dessert to bring to any Summer BBQ that everyone will love! The graham crackers get soft and cake-like and are stuffed between layers of sweetened whipped cream and juicy strawberries. Perfection!
*Originally posted on 6/24/14. Updated on 6/30/16 with new photos + homemade whipped cream recipe for those who dislike Cool Whip!*
This strawberry ice box cake is by far my favorite summer dessert! You guys love it too apparently because it has remained a reader favorite for over two years now!! I have had  lot of feedback from this recipe. Many of you don't like to use Cool Whip and I understand that – call me crazy but I actually like the flavor of it. When you want a super quick and easy dessert, it comes in handy. If you have time to make homemade whipped cream (which really only takes about two minutes and is so much tastier so DO it!), I have updated the recipe with a homemade whipped cream option.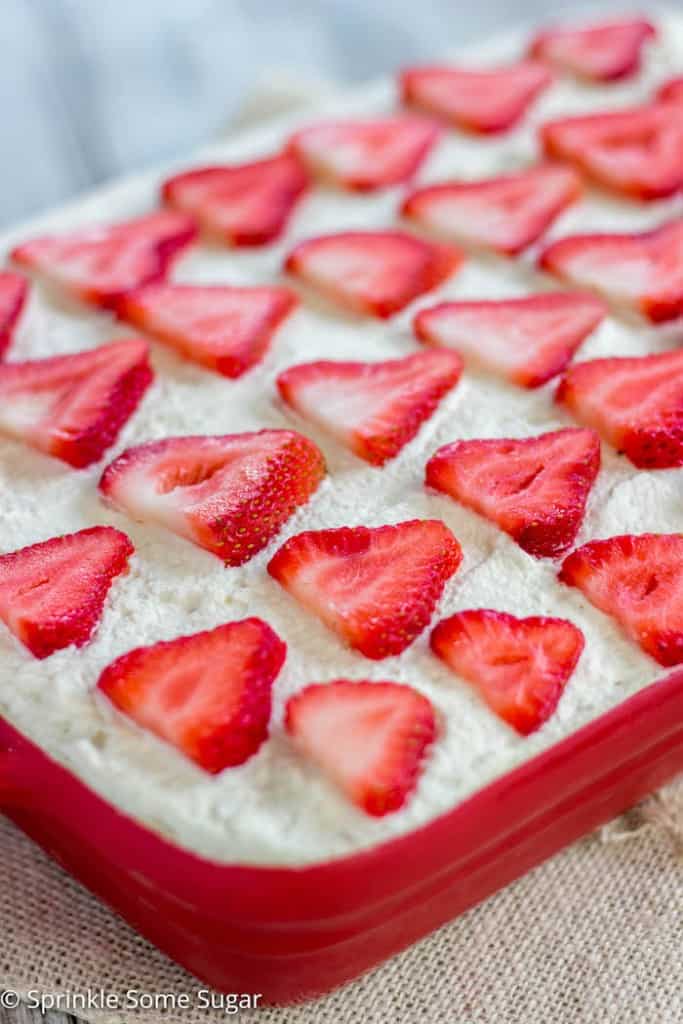 This is my go-to when I have company or am going to a BBQ where there are lots of people. I love how refreshing it is since it is chilled until ready to serve. There's something about strawberries and fresh whipped cream together that just screams summer! The graham crackers layered between get nice and soft, almost like a thin cake layer. All of the flavors together are so delicious! It reminds me of strawberry shortcake.
This dessert is always always a hit and is especially great for feeding large crowds! Everyone always goes crazy for it. It's no-bake too, so no turning on your oven on those really hot summer days! The combination of the melt-in-your-mouth graham crackers layered between the crisp strawberries and creamy whipped cream is truly amazing.
If you want a delicious, SUPER easy and simple dessert to make, you've got to try this! I promise it will not disappoint.
Strawberry Icebox Cake
Ingredients
3

lbs

fresh strawberries

sliced

1

14.4 oz box Honey Graham Crackers

3

8 oz tubs Cool Whip
HOMEMADE WHIPPED CREAM OPTION
6

cups

heavy cream

1

cup

confectioner's sugar

4

tsp

vanilla extract
Instructions
*Each Cool Whip layer uses one whole tub (besides the first thin layer).

*Each strawberry layer uses about 1 lb of sliced strawberries.

*If you are using homemade whipped cream instead of Cool Whip, you will use 3-3 1/2 cups per layer that calls for Cool Whip.

To make homemade whipped cream (if desired), beat heavy cream to stiff peaks. Beat in confectioner's sugar and vanilla until smooth.

Spread a thin layer of cool whip in a 9x13 pan just to coat the bottom. Layer 5 graham crackers across the center of pan, then 2 more breaking them as needed to fit around the top and bottom edges. Spread a thick layer of cool whip (just use the remaining cool whip from the first step) over grahams and top with a hearty layer of sliced strawberries. Place graham crackers on top of strawberries, then cool whip, then strawberries. Repeat the layers 1 more time (3 times total) and you should reach the top of the pan. I used 3 layers of each + the first thin layer of cool whip. You will finish with a layer of sliced strawberries.

Refrigerate for at least 4 hours or overnight until the graham crackers have softened completely. Serve chilled.